This is the first in a 3-part article series discussing some critical features for enterprise low-code development. Each of these requirements is a key feature of Alpha Software products that makes them ideal for enterprise web and mobile app development.
The best low-code/no-code platforms need to offer offline capabilities, connections to SQL and relational databases and have full-stack support.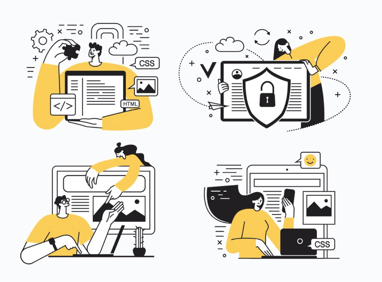 There are plenty of low-code/no-code platforms out there, all of which promise to do everything under the sun for you and more. They're being built by large companies, small companies, and in-between-size companies. Every day, it seems, a new low-code/no-code platform pops up.
Which makes things problematic for you when you're trying to decide which one to buy. Making it even more difficult is how complex some of these platforms are, and how their capabilities vary. It can seem impossible to do a feature-by-feature comparison to help you figure out which is best for you.
We've got help. We've been in the business of building low-code/no-code software for many years, and have gotten feedback on what works and what doesn't work from countless customers.
And we've found that there are three main features that are the most important for any business that wants to use these platforms. In this article, we'll give you a brief summary of them. Then in three more articles, we'll delve into more detail for each.
Feature #1: Offline Capabilities
The first important feature any low-code/no-code platform needs is the ability to build apps that can work when offline, and not connected to the Internet. Given what sometimes seems to be ubiquitous connectivity, it's easy to forget that plenty of places are unconnected, including some rural areas, remote worksites, and even dead spots in big cities. Beyond that, some places have spotty connections, that work sometimes but not others.
As I'll explain in a future blog post, merely having basic offline capabilities are one thing, but you need advanced features, such as handling duplicates, proper synching and more.
Feature #2: Connection to SQL, Databases, APIs, and More
The second most vital feature is the ability to connect to SQL, standard relational databases, API endpoints, and web services. Most low-code/no-code platforms manage to connect to API endpoints and web services. But many leave it at that, and don't connect to SQL and standard relational databases, or don't do it easily which is very problematic. Most companies need to tie into these databases.
Keep in mind that even if a low-code/no-code platform promises it can make those connections, it doesn't mean it can do it easily. So as you'll see in a future blog post, you need to see if they have connectivity features like wizards and genies.
Feature #3: Full-Stack Support
And now we come to the final absolutely vital capability: Full-stack support. What does that mean? It means that the low-code/no-code platform you choose can't do just one thing, can't be only a single part of a solution. It must offer full-stack support for the entire solution you want to build. So it can't just build mobile apps or web apps, can't just connect to a back end or build a front end. It needs to do all of the above and more. I'll explain more fully what that means in a future post.
We'll dive into each of these features in additional blog posts this week. Stay tuned!
---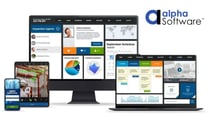 Alpha Software can help your business build critical apps fast and affordably.
Build apps for free with Alpha Software low-code or no-code software.