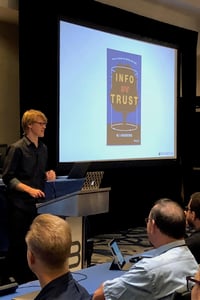 Enterprise developers and business leaders from a range of industries fought the weather to attend opening keynotes and day 1 sessions at Alpha DevCon 2018 in Orlando, Florida. This year's conference focuses on "the future of enterprise mobility and business app development.
The 'Humanization of Information'
Alpha DevCon 2018 opened with a keynote by RJ Andrews, data storyteller and Founder of InfoWeTrust, who spoke on "Modern Business and the 'Humanization of Information.'" Andrews put data in a larger context by explaining, "When I think about data, I think about the past world and why that data was selected to be shared through today." He showed clear examples of why using data "storytelling" is much more effective at presenting insights in data and conveying concepts more quickly, and stressed the point that data doesn't matter unless it informs. RJ Andrews' highly anticipated book on data storytelling, "Info We Trust: How to Inspire the World with Data," publishes later this year (pre-orders available on Amazon.com).
A Powerful Platform that Combines the Advantages of Low-Code and No-Code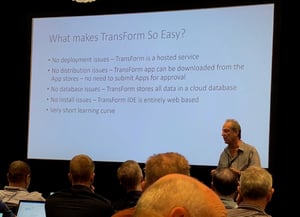 In the next session, Alpha Software President Selwyn Rabins discussed how the company's key products, Alpha Anywhere and Alpha TransForm, work together to enable a wider range of enterprise workers - from line of business users to experienced IT developers - to speed business app development. While he acknowledged that low-code app development makes developers more productive, it is "not enough -- we must push app development down to where the need arises: with citizen developers." He explained how Alpha Anywhere as a low-code product and Alpha TransForm as a no-code product work together to speed app development for entire enterprises, while making sure developers have maximum flexibility. He explained that business users can essentially build a mobile app in 10 minutes with Alpha TransForm and offered 6 key reasons why Alpha TransForm makes app development so easy:
No deployment issues (TransForm is a hosted service)
No distribution issues (TransForm app can be downloaded from the App Stores -- no need to submit apps for approval)
No database issues (TransForm stores all data in a cloud database)
No install issues (TransForm IDE is entirely web-based)
Very minimal learning curve.
He then raised the bar by explaining that Alpha TransForm goes beyond simple forms products with the TransForm Programming Language. "TPL allows developers with more advanced skills to add some advanced features to TransForm apps, for example, access to on device data using SQLite when the end-user is offline." He explained that "Alpha TransForm can service from line of business users who build basic apps very quickly to developers creating highly customized apps." And Alpha Anywhere can always take developers further if they need more power.


Alpha TransForm: Building a Mobile App in Less Than 10 Minutes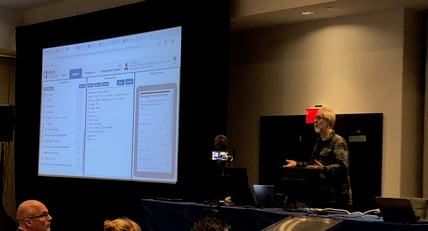 After a short break, CTO Dan Bricklin took the stage to show Alpha TransForm at work. Bricklin began with a review of the product enhancements made since last Alpha DevCon, in particular powerful data integration capabilities.
During the Alpha TransForm demo, Bricklin built a mobile app with Alpha TransForm in 5 minutes, then updated and republished it within 7 minutes. He walked the audience through clear examples of how Alpha TransForm's design dramatically speeds data capture for end users with mobile optimized data entry methods. He offered examples of what developers can do with the TransForm Programming language and explained what documentation and training resources the company offers new TransForm users. DevCon 2018 attendees received a free Alpha TransForm license.
Additional Web and Mobile App Sessions
Attendees will see a deconstruction of a sophisticated web and mobile app by Selwyn Rabins -- expected to be one of the most popular sessions of the week. He'll then follow with a product roadmap of Alpha Anywhere, a session that traditionally gets the highest ratings from attendees.
Later in the day, the conference breaks into a technical track featuring:
Technical Session: Tips and Techniques for Creating and Publishing and Your Own Web Services Using APIs
Technical Session: Adding Amazing New Functionality to Your Mobile and Web Apps with APIs
...and a customer success track on digital transformation featuring three case studies on:
A mobile app improving animal care
A mobile app improving energy inspections
A mobile app dramatically improving medical patient experiences and saving hospitals significant costs.
Read about customer digital innovation projects presented at Alpha DevCon.
Build mobile apps fast - try Alpha TransForm free for 30 days.