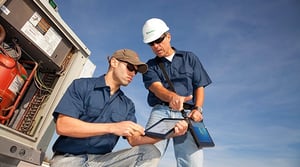 Transforming a company's field service operations using field service apps can be a key component of a company's drive to digital transformation.
When companies embark on digital evolution, they frequently target core business processes and IT infrastructure. Often overlooked, though, is the role a company's field service operations can play in digital transformation. Transforming field service operations using mobile applications is a key component for successful digital transformation
Benefits of Digital Transformation in Field Services
Global consulting management company ATKearny discusses the potential of digital transformation through transforming field service operations in the article "Field Services Races Toward Digital." The piece notes "Some companies uncover as much as $20 million in annual cost savings by adopting new digital approaches, insight-enriched customer relationships, and advanced data analytics."
The article also highlights how using digital tools like mobile apps for field service workers increases customer satisfaction. Going mobile helps companies gain new customers, reduce costs, and improve deliveries, all while freeing up customer service agents for more valuable tasks, like sales calls.
Gartner's "Magic Quadrant for Field Service Management" found that "By 2020, 70 percent of organizations will cite customer satisfaction as a primary benefit derived from implementing field service management, up from approximately 50 percent today." Gartner analysts report that "By 2020, more than 75 percent of field service organizations with over 50 users will deploy mobile apps that go beyond simplified data collection and add capabilities that help technicians succeed."
---
"By 2020, more than 75 percent of field service organizations with over 50 users will deploy mobile apps that go beyond simplified data collection and add capabilities that help technicians succeed."
---
The ATKearny article emphasizes that arming field technicians with mobile devices and apps that only handle logistics isn't enough. Companies need to use field service apps for much more, in particular gathering important customer data (aka, mobile data collection solutions). That data can then be analyzed to help transform the way the entire business operates. The article concludes, "Placing the customer at the center of digital transformation tends to guide strategies for improving other services and processes."
Four Necessary Features for Mobile Field Service App
Field service management software can accomplish four important steps:
Ensure visibility into future demand
Match supply with demand
Digitally improve demand forecasting
Drive workflow and standardize processes
Best Software to Build Field Service Apps
Alpha TransForm is ideally suited for building mobile apps for field service workers. Alpha TransForm crafts mobile field service apps in minutes. The apps have offline capabilities and utilize the latest mobile features (camera, GPS, and more) for fast, accurate data capture.
Enable your mobile workforce to:
View service history of customers
Receive push notifications
Receive and update work orders
Access service reports
Capture customer signatures
Regardless of where your technicians roam, ith Alpha TransForm they can access and use the app without internet connectivity.
Alpha Anywhere has the unique ability to rapidly create intelligent mobile forms and field apps that can easily access and integrate with any database or web service. These apps can also exploit built-in role-based security or robust offline functionality.
Field Service App Case Studies
Many companies have built field service apps with Alpha Software technology, including field inspection apps. These include:
Free Field Service App
Alpha Software created a sample field service app template you can download for free.
For details and to access the sample app for free, read the blog post, "Inspection Apps For Field Workers: A Field Service App Template."
Use Alpha Transform to help with your field service apps needs or check out our no-code app builder!