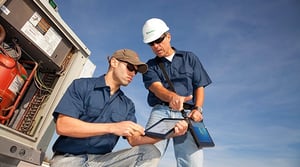 When companies embark on digital transformations, they frequently target their core business processes and IT infrastructure. Often overlooked, though, is the role a company's field service operations can play in digital transformation. Transforming a company's field service operations using mobile apps can be a key component of a company's drive to digital transformation.
Benefits of Digital Transformation in Field Services
That's one of the takeaways in an article published by the global consulting management company ATKearny in its article, "Field Services Races Toward Digital." The piece notes that, "Some companies uncover as much as $20 million in annual cost savings by adopting new digital approaches, insight-enriched customer relationships, and advanced data analytics." The also says using digital tools like mobile apps for field service workers increases customer satisfaction, helps companies gain new customers, reduce costs, improves deliveries, and frees up customer service agents for more valuable tasks such as sales calls.
The article mirrors the results in a Gartner report, "Magic Quadrant for Field Service Management," which found that "By 2020, 70% of organizations will cite customer satisfaction as a primary benefit derived from implementing field service management, up from approximately 50% today." The report goes on to say, "By 2020, more than 75% of field service organizations with over 50 users will deploy mobile apps that go beyond simplified data collection and add capabilities that help technicians succeed."
---
"By 2020, more than 75% of field service organizations with over 50 users will deploy mobile apps that go beyond simplified data collection and add capabilities that help technicians succeed."
---
The ATKearny article emphasizes that arming field-service operations with mobile apps that only handle logistics isn't enough. Companies need to use field service apps for much more, in particular gathering important customer data (aka, mobile data collection solutions). That data can then be analyzed to help transform the way the entire business operates. The article concludes, "Placing the customer at the center of digital transformation tends to guide strategies for improving other services and processes."
4 Necessary Features for Field Service Solutions
In particular, it can accomplish these four important steps:
Ensure visibility into future demand. This is vital for a customer-driven enterprise.
Match supply with demand. The article notes, "With greater insight into demand, the next step is to meet the demand in a cost-effective manner. Flexibility in areas such as labor arrangements and scheduling practices is becoming the hallmark of labor policies at top field-service companies."
Digitally improve demand forecasting. The article points to a gas company which digitized its field service workers. After the company did that, the article notes, "Nearly 95 percent of all deliveries were automatically forecasted, compared to zero under the old model when staff members determined delivery schedules. For the customers, this means they rarely run out of gas. For the company, it means fewer resources are expended to make each delivery."
Drive workflow and standardize processes. The same gas company, the article says, "Implemented a workforce mobility solution across its fleets. This solution interfaces with its existing enterprise resource planning (ERP) and backoffice systems, seamlessly capturing and transferring data to and from the field. The solution automates the entire gas delivery process, eliminating error-prone manual calculations and paper processes…The new technologies reduce fixed costs and allows service centers to concentrate on what they do best: deliver gas."
Building Field Service Mobile Apps
Alpha TransForm, our mobile app development platform, (for non-developers) and Alpha Anywhere (for developers) can work independently or together as a single platform, and are ideally suited for building mobile apps for field service workers. Alpha TransForm helps business users craft online or offline mobile apps in minutes that utilize the latest mobile features (camera, GPS, etc.) for fast, accurate data capture. Alpha Anywhere has the unique ability to rapidly create mobile-optimized forms and field apps that can easily access and integrate with any database or web service, and can exploit built-in role-based security or robust offline functionality.
Field Service App Case Studies
Many companies have built field service apps with Alpha Software technology. A major offshore drilling company, for example, was able to use it to have a mobile app for capturing live maintenance information designed, tested and implemented in just four days. American Pool, the largest commercial swimming pool management, maintenance, construction and recreational facility management operation in the United States, used Alpha Software technology to give supervisors and maintenance technicians mobile access to its CRM platform wherever they were, for purposes such as collecting data in the field. And the Inventory Services Network build a powerful, high-speed inventory data capture solution with Alpha Software technology.
We've even created a sample field inspection app you can download and customize yourself!
For details and to access the sample app for free, read my blog post, "Inspection Apps For Field Workers: A Sample Field Inspection App."