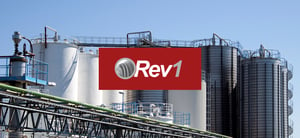 New power plants require extensive work before they go online, particularly in final testing and integrating subsystems. When Rev1 Power Services needed to develop a system for providing engineers with the information they need for doing this, they turned to Alpha Anywhere.
The Need: Build Mobile and Web Friendly Apps
Rev1 Power Services is a global leader in power industry staffing, project management, installation and commissioning, and maintenance services. The company had used a Microsoft Access database for coordinating its work. But Rev1 found that Access was no longer capable of delivering what the company needed -- it was not robust enough. Rev1 also wanted to migrate to a more open platform that was mobile and Web-friendly.

Andrew Rachel, Database Manager for Rev1, found that Alpha Anywhere ideally matched the company's needs because of its flexibility, power, and ability to build both Web-based applications and mobile apps.
"Alpha gave us everything we needed," he says. "A big selling point was its offline capabilities. Workers at the plants we work on can be out of reach of the Internet, so Alpha's ability to build mobile apps that work when offline was a tremendous draw."
Big Benefits for Big Projects
Rev1 built a system with Alpha Anywhere that tracks all the hardware its staff works on, including controllers, motors, switch gears, and miles of piping and power cables. The Alpha Anywhere system also tracks all results of testing performed to get the plant running. The system works on the Web, desktop or mobile and will ultimately link to Primavera project-management systems used by many construction firms.

Alpha Anywhere has improved the productivity and efficiency of Rev1 staff, and helped the company dramatically reduce the time required to do its work. Previously, Rev1 staff had to travel to each site and spend a week setting up Access and local servers. The Alpha Anywhere system can be set up at remote sites in hours because no local servers are required. Each new project is easier to start than in the past, because pre-formatted templates are already built, which can be easily customized for each plant.

"Alpha Anywhere handles all the heavy lifting, so I don't need an IT team of 15 people - we can do the same work with a staff of four, and our software is much more robust than if I were using a different system and had additional people," Rachel says. He adds that with Alpha Anywhere, he can build a system in three months that otherwise would have taken more than a year - and the Alpha Anywhere system has many more features.

Looking towards the future, he says, "We're looking at expanding our business, and the Alpha Anywhere system helped us build will let us do that far more easily."

For more information, see the full case study here.