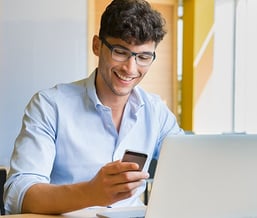 Think of the typical mobile developer, and you might imagine a Starbucks-swilling hipster building apps and living the good life in Silicon Valley. Someone white collar and highly educated, or who dropped out of an Ivy League college to make a fortune.

But according to a Wired article, The Next Big Blue-Collar Job Is Coding, nothing could be further from the truth. In fact, the article says, Silicon Valley is home to only eight percent of the country's coders. Many of the rest of them do work that's more akin to blue-collar work, learning more basic skills like JavaScript for building apps.
Will we soon see construction apps being built by construction workers? It's becoming more and more likely.
Businesses need to get more apps built than ever before. They must take databases, tasks and customer services mobile, to remain competitive or serve disparate users during the pandemic. Unfortunately, businesses can't afford to have IT staff or external firms build every app they need for a task. They're relying on employees already in the company to get these apps and mobile forms built.
But here's what's really interesting: you don't have to be a IT developer, web programmer or technical expert to build apps. You don't even have to have years of experience using SaaS apps or building macros in Excel. The new trend is for blue-collar workers without any programming experience to learn app development. And they're doing it because new software and training programs are built to help them learn to build web and mobile apps.
The Profile of People Creating Apps is Changing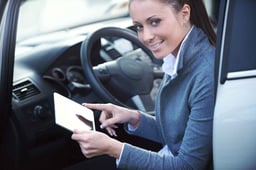 A fundamental change is occurring in the industry, where now small businesses can allow their employees can do their own app design, even if they don't have app development experience. Software and training is allowing all types of people to do their own app design, user interface and app testing, and apps operate as well as native apps on mobile devices.
The article points to a coder named Devon, who works maintaining a security software service in Portland, Oregon, as being a perfect example of this. His father was a blue-collar worker, and to a certain extent Devon is as well, working a regular, 40-hour-a-week job and getting paid a reasonable wage for it.
The author of the article, Clive Thompson, notes that politicians constantly complain about the loss of blue collar jobs. He then asks, "What if the next big blue-collar job category is already here—and it's programming? What if we regarded code not as a high-stakes, sexy affair, but the equivalent of skilled work at a Chrysler plant?"
Software for App Creation Has Evolved
In the past, app development was the exclusive realm of experienced programmers with software engineering or other technical experience. Now software does much of the routine or difficult coding for users with app ideas. This allows app builders to focus on how an app functions, what task it can do and what the user experience will be, versus worrying about learning a programming language and debugging lines of complex code.
Builders can add push notifications, social media content and offline operation without understanding the inner workings of how hybrid apps function. And often these easy to use software tools allow app makers to submit apps to the app stores, such as the Apple App Store, with a click.
Cloud-based low-code mobile platforms, drag and drop app tools and mobile forms software have changed the game. Vendors like Alpha Software, Appy Pie, Buildfire, Forms.com and others make app development a reality for a range of new users.
Another method of app development that is showing great promise is pre-built apps. Vendors offer sample apps or pre-built templates that form the basic structure of an app that can be customized for a business. It can have fields changed or added, and some basic UI and branding updates can be made. This is another fast way to get basic apps built.
Training Teaches App Building
Thompson explains that students can get coding training at inexpensive community colleges rather than expensive four-year schools. Workers in mid-career can attend training programs that last several months, such as Dev Bootcamp. He writes:
"These sorts of coders won't have the deep knowledge to craft wild new algorithms for flash trading or neural networks. Why would they need to? That level of expertise is rarely necessary at a job."

Thompson says that more and more people are getting this kind of training, especially in areas of the U.S. that have been hit hard by layoffs in shrinking industries. In Kentucky, for example, former coal miner Rusty Justice co-founded Bit Source, a development company that gets its developer staff by retraining coal miners to become programmers.
Vendors like, Alpha Software, offer a number of ways to learn app development, based on how a new student likes to learn. The Company offers an extensive library of over 1,000 tutorials, an extensive documentation library with step-by-step instructions, in-person classes at their annual developer conference, and even a user community of more than 17,000 active developers who offer advice and share ideas and code.
You Can Learn to Create Apps
None of this is new to us at Alpha Software. We're big believers that a wider range of people - beyond traditional developers - can learn to build great mobile and web apps. That's where Alpha Anywhere comes in.
Alpha Anywhere is free app building software that allows anyone to learn to create mobile apps that can collect data, share information or trigger alerts. With this software, people of all skill levels can quickly become proficient at building web and mobile apps that run across all iOS and Android smartphones and tablets. They don't need previous training and they don't have to invest in expensive courses or months and months of training.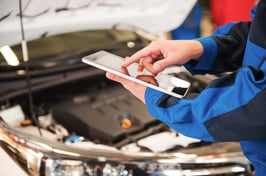 During a recent recession, Mike Brown was laid off from his job as a maintenance mechanic. Rather than look for a similar job, he decided to learn to create apps. He believed this would lead him to more career options and a better future.
To help reach his goal, Mike chose to learn how to build apps using Alpha Anywhere low code app development software. Low-cost training and software allowed him to learn quickly for little risk. After gaining app development skills, Brown hasn't looked back. Read how a mechanic learned to build mobile apps.
Alpha Software was unique because it seeks to do the hard work for app developers, allow them to focus on more important aspects of an app, such as how it completes tasks, how the user can speed data entry, or how the software looks on different size screens. Offline operation is built-in, so even the most basic apps can work with or without a cell or WIFI signal. All apps are responsive, so they run flawlessly on any operating system, desktop, smartphone or tablet.
Create Many Apps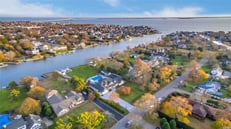 Another nice thing about Alpha Anywhere Community Edition is that once you know the software, you can quickly build tens or even hundreds of apps. The software is free, no matter how many apps you decide to build, and you'll become more proficient and faster with each app you create.
Mark Chasanoff, a programmer for the town of Islip, NY, needed to take a myriad of town services mobile to citizens during the pandemic. Using Alpha Anywhere, he has overseen the development of an astonishing number of applications for the town -- more than 50 -- using Alpha Anywhere.
The new apps are for both residents and city department workers. The spans a number of town services, from park reservations to elderly transportation to permits to applications. Chasanoff has been impressed with the speed and ease of development: "With Alpha Anywhere we can make fully functioning applications in as little as a day."
Start creating apps for free with Alpha Anywhere Community Edition.


Alpha Software has an experienced team of friendly app developers that can teach you how to build mobile apps. No company is never too big or too small for Alpha's friendly app development trainers. We're here to help new users learn the ins and outs of development so you can create apps that meet the needs of your business.
We also offer mentoring, which allows you to team up 1:1 with an experienced developer ready to provide whatever assistance you need. From adding a complex new feature to troubleshooting problems, to helping test your apps. We'll ensure you have the knowledge and tools you need.
Educational Programs: Learn how to build web and mobile apps.