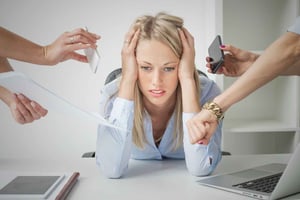 Setting the right criteria for choosing a low-code platform to build apps is critical - or you risk failing your organization.
Are you replacing hand-coding with a low-code development platform for your app development team? Making a solid decision requires that you understand common requirements needed in business apps.
Drag and drop interfaces are enticing. Often, these low code development tools lack the enterprise features and custom code capabilities to build apps that serve business users. You'll end up hiring professional developers if you new low code software can't meet app requirements. That's why setting informed criteria for choosing a low-code application platform is so important.
When selecting a low code product, it's important to have a clear understanding of common business app requirements. For example, how does the software deal with data models and process automation? Does the product need to serve both citizen development and app development teams?
Evaluate the right low-code criteria and and you will be a hero. Forget key requirements and you'll miss critical development deadlines or need to hire developers to finish the job. That's why setting criteria for choosing a low-code application platform is so important.
Select the Right Low-Code Platform to Build Applications
Many app no-code and low-code development software companies make bold claims. Delivering against these promises is an entirely different matter. To ensure success the rapid application development software you choose has to deliver for you quickly, reliably and predictably.
Alpha Software is founded and run by developers who understand the key requirements for enterprise application development software. All of the developers of Alpha Anywhere have been in your shoes. They understand the pressure you are under to make the right decision about the technology platform to use. Based on their own experiences, they've focused on 8 key criteria as they've designed Alpha Software low-code products.
Criteria for Evaluating a Low-Code Software Platform
Make sure you understand how each alternative development platform stacks up against these 8 criteria for evaluating low-code software:
Can you get most of your app built with NO code in order to maximize your productivity?
Can you code using standard languages on both the front-end and back-end of business applications?
Does the platform include intelligent offline app support to mobile apps without extra effort?
Can you produce web apps and Pixel Perfect mobile apps that will run cross platform on both iOS and Android devices?
Can you easily integrate with corporate databases, business process management software, workflow automation software and more?

Are the apps you build intuitive

, so that even complex apps are easy to use on any smartphone or tablet?
Can your apps scale and can you deploy them on-premise or in the cloud for maximum flexibility and performance?
Will the low-code software

vendor support you through design, development and managed deployment of your apps?
Two More Methods for Evaluating Low Code Platforms
I recently share two articles that featured alternative ways to evaluate and select low code platforms.
The first is an article by an experienced developer. He shared shared his approach to evaluating popular low code solutions like, Outsystems, Mendix, Alpha Anywhere and Zoho. He shared his 8-step criteria for testing and evaluating the software which included things like:
measurement development speed
assessing the cost of the software
testing the richness of the development environment
evaluating the user experience in the mobile apps you produced...and more
Read his full 8-step criteria for evaluating low code platforms.
The second article explains key differences between low code and no-code software you should consider as you evaluate products. That article discussed critical business needs around future functionality, business flexibility, custom coding and hosting.
The Top-rated Low Code Platform

Alpha Anywhere meets all 8 criteria for selecting a low-code solution. InfoWorld awarded it "Technology of the Year" and customers give it 5-star ratings on Gartner Peer Insights, Capterra and TrustPilot.
Trust your digital transformation to Alpha Software. Click to get Alpha Anywhere Community Edition and develop apps on a low-code platform for free.