Low code/no code software are gaining popularity, but which is better for your development needs?
The world has accepted that low-code and no-code development platforms are great tools to speed up app development. They let non-programmers build powerful web applications or mobile applications. But more than that, they also increase the productivity of developers as well. They're win-win propositions for companies of all sizes, whether a one-person operation, or an enterprise that spans the globe.
Is a low-code or no-code solution better for your organization's needs?
You want to create software with great user interfaces, but you want a development process that reduces the requirement to write code. Is low -ode or no-code software the answer for your organization?
To help you decide, we'll first take a look at the difference between them. Hackernoon's article, The Low-Code vs No-Code Platform Dilemma, offers an excellent overview.
Understanding Low-Code Programming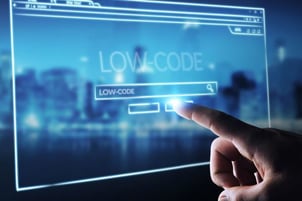 Here's how low-code developed, she says: "Low-code platforms began when developers started replacing traditional hand-coding with tools – pre-built modules, graphical interfaces – to create applications. These platforms came into existence as auto-code generation tools. Later, they evolved into enterprise-grade app development platforms and now it covers the entire app delivery cycle."
These platforms replace code with simple drag-and-drop interface components. But they also allow developers to customize and fine-tune by adding their own code.
Understanding No-Code Programming
No-code platforms, on the other hand, she says, are exactly what they sound like: They let people create full-blown applications by using drag-and-drop widgets and existing components, with and, no coding expertise required. The article notes, "No-code platforms evolved as a specialized type of low-code cloud platform to address industry-specific functions. In such scenarios, the coding extensions are taken care of by providing out-of-the-box visual components."
The Best Type of Programming for Your Needs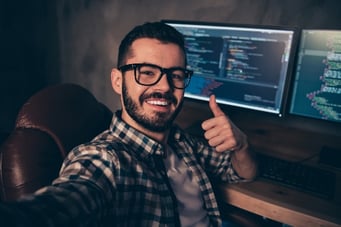 To best decide which type of software is best for you, the article says, "No-code platforms can be great for business users wanting to build small applications for use by a single department." But it adds they might not be suitable for enterprise-wide deployment.
The article puts it this way: "No-code platform is likely to be a good fit for building line-of-business apps when you have limited IT resources. Low-code development platforms are a good choice for professional developers wanting to create long-term custom applications that are critical to the business."
It adds: "When considering either of the platforms, make sure it meets the following requirements for best results:
What does your solution do to facilitate business?
Do you need to integrate or add functionalities to the solution?
How does it support citizen and professional developers to create applications?
Can the solution be enhanced to deliver customized functions?
Where you want to host your solution."
Low-Code vs. No-Code
Another article, "No Code VS Low Code" draws a similar conclusion:
"No Code and Low Code platforms are there to serve you all. They should be evaluated based on their ability to serve your needs, not on the amount of code they may or may not require."
Choosing the Best Low-Code/No-Code Platform
The truth is, you don't have to make a choice between low-code and no-code application platforms. Alpha Software lets you have it both ways. The product serves both software development teams and citizen developers. Developers can build applications using a built-in programming language, while business users can build apps without writing a single line of code.
Alpha Software rapid application development (RAD) enterprise software is ideal for companies of all sizes that want to build powerful business applications and apps to transform their business processes.
The Alpha TransForm no-code app builder helps business users craft online or offline mobile apps in minutes that utilize the latest mobile features (camera, GPS, etc.) for fast, accurate data capture. The benefits of no-code programming.
Alpha Anywhere low-code software has the unique ability to rapidly create mobile-optimized forms and field apps that can easily access and integrate with any database or web service and can exploit built-in role-based security or robust offline functionality. The benefits of low-code software.
Try building low code apps for free with Alpha Anywhere Community Edition.