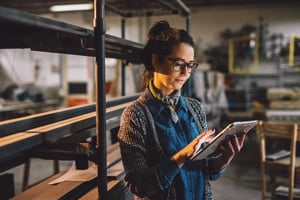 The tablet market for consumers has been falling for quite some time and shows no sign of returning to its glory days of the past. However, the enterprise tablet market, especially ruggedized tablets used in the field has been growing. That's one more sign that mobility continues to take center stage in the enterprise.
A recent report from VDC Research, "The Global Market for Enterprise Tablets" found that "tablets are increasingly important for today's enterprise workforce – especially for mission and business critical frontline workers across industries as diverse as energy and utilities, retail, first responders and transportation/logistics." Tablets, the report says, are typically used by factory workers, warehouse workers, field service technicians, police officers, EMTs, nurses/clinicians, flight-line aircraft personnel, and many others,
Because of all that, the report says, "The rugged slate tablet market is expected to reach $882.3M by 2023."
VDC Research isn't alone in finding this. 360 Market Updates, in its report on the enterprise tablet market, says that the enterprise tablet market will grow at a compound annual growth rate (CAGR) of 8.61 percent between 2019 and 2023.
Yet one more sign of how important tablets are for enterprise mobility is that Samsung has gone all in on enterprise tablets. Taher Behbehani, head of Mobile B2B at Samsung, explains, "Last year we grew revenues by 20%, which is quite significant in the mobile side. And for example, our tablet sales were doubled in just one year and it's important to note that most of the tablets are actually deployed for B2B enterprise specific solution sets."
That's not to say that all is rosy when it comes to tablet use or enterprise mobility. The "Second Annual State of Enterprise Mobility Survey and Report" from B2M found that 40 percent of all enterprise mobile end users say they have app-related issues at least one or more times a month. A full eight percent report they have daily app problems, another eight percent say they have issues one to two times a week, and seven percent say that have issues more than two times per week.
The upshot of all this? Although tablets offer significant benefits to enterprises, companies are falling short when it comes to writing useful, bug-free apps. They need to pay more attention to app quality if they want to get all the value that tablets can offer.
What's the Best Platform For Writing Bug-Free Apps?
Apps have bugs not necessarily because developers are sloppy, but because the tools they use to write apps can be difficult to use or problematic in other ways. That's where Alpha TransForm (for non-developers) and Alpha Anywhere (for developers) come in. Alpha TransForm and Alpha Anywhere can work independently or together as a single platform and are well-suited for both IT, citizen developers and other staff. Alpha TransForm helps business users craft online or offline mobile apps in minutes that utilize the latest mobile features (camera, GPS, etc.) for fast, accurate data capture. Alpha Anywhere has the unique ability to rapidly create mobile-optimized forms and field apps that can easily access and integrate with any database or web service and can exploit built-in role-based security or robust offline functionality. Start by learning more about Alpha TransForm and try it free for 30 days.