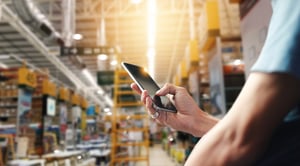 In the popular imagination, warehouses are bastions of manual labor, filled with palettes of products stacked willy-nilly, resistant to the tides of digital innovation that are washing across industries everywhere.
Nothing could be further from the truth, though. In a world in which customers expect fast delivery — sometimes only a few hours after goods are purchased— warehouses are turning to technology. The most extreme example is Amazon, which has turned to cutting-edge artificial intelligence to help power Prime Now, which delivers goods to households within hours of ordering. Using AI, Amazon predicts at which geographic areas specific goods will be ordered, and then prestocks nearby warehouses with the goods. AI even decides where the goods they should be put inside warehouses for maximum efficiency. The result: A decrease of 225 percent in "click-to-ship" time, an increase of 50 percent in inventory capacity and a cut of 20 percent in operating costs.
Few, if any companies, have Amazon's resources and know-how, of course. But you don't need to be Amazon to reap big benefits from applying technology to warehouses. Companies have recognized that and are rushing to modernize their warehouses. So concludes the VDC Research survey "Modernizing the Warehouse." Business use a variety of technologies to modernize warehouses, the survey says, including automated storage and retrieval systems (ASRS) and IOT-driven robotic automation and automatic guides vehicles (AGVs).
But the key technology, the report says, is mobile. The market for mobile tech for warehouses, the report found, will grow at an annual compound growth rate of 4.2 percent between 2019 and 2024. It found, "The selection of new mobile devices in the warehouse is largely driven by a demand for improved ease of use (53.4 percent) and security features (49.3 percent), and the opportunity overall owes much credit to the sweeping prevalence of Android migration in related environments."
As for the top three mobile investments companies will make for their warehouses, it found, increased picking efficiency and increased employee productivity topped the list at 47.9 percent each, followed by improving the efficiency of warehouse space (35.6 percent).
---
See examples of powerful manufacturing solutions that can be used on the production floor and in warehouses.
---

The Best Solutions for Warehouses
Looking to improve quality control and quality assurance at your organization? Learn about Alpha Software Manufacturing Solutions.