Ready Made Equipment Inspection App with Easily Customized Component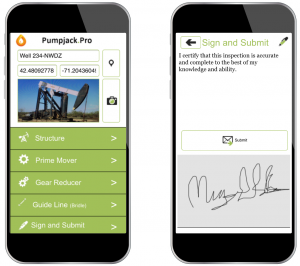 Pumpjack Pro is a sample application for Alpha Anywhere designed for inspecting pumpjacks - those machines that look like bobbing horse heads above oil wells. The design is similar to a previously published sample application called Inspection Solutions. But, unlike Inspection Solutions, this one is designed for use on a mobile phone rather than a tablet.

Features of Pumpjack Pro include:


A signature capture control
Please note: No backend data structure is provided. You can connect it to the data source of your choice, or it can be used as a learning tool to see how the interface was built.

This pre-built inspection application is included with an Alpha Anywhere subscription!
All Alpha Anywhere subscribers have full access to Pumpjack Pro for modification and deployment, in addition to our other sample applications. Become a subscriber or renew your expired subscription to gain access.

Note: During a 30 day trial period, you will also be able to test and modify this application.

LEARN MORE/DOWNLOAD PUMPJACK PRO