Want to learn mobile app development? New software and mobile app development training help anyone become an app creator.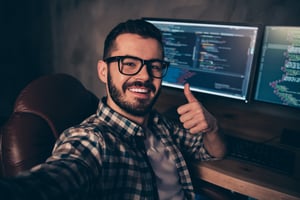 Once, you had to have experience with iOS or Android app development to build mobile apps. Now virtually anyone can access software and training to build apps.
Drag-and-drop app makers, low code software, and other solutions have emerged to help anyone build mobile apps. The evolution to more simple app development solutions is similar to what happened with web development and web design. Now just about anyone, even children, can publish a blog or a web page with widely available tools.
Learn Best Practices for Mobile App Development
While these products and tools are very helpful, there are other aspects to iOS and Android development for mobile devices. Critical technical considerations include: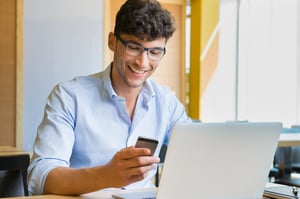 Some factors you must consider when building mobile apps include:
understanding device hardware capabilities and limitations
UX for smaller smartphone and tablet screens
UI design for one-handed data entry and access
working without a WiFi or cell signal
including social media, databases and web services
SMS and push notifications.
Learn Outstanding UX Design for Mobile Devices
Alpha Software, an app developer tool leader with years of experience serving software developers, offers app development training for everyone. The Company offers an online tutorial to help virtually anyone develop real-world apps for iOS and Android devices.
We are pleased to present Getting Started with Alpha Anywhere, a mobile app development training course.
How to Design, Build and Publish Mobile Apps
This app development training walks you through the installation and registration of a free app builder, Alpha Anywhere Community Edition. Once you've installed the software, the app development training continues. You'll get easy step-by-step instructions on how to build and test a mobile app. Yo
You'll learn to publish apps to mobile devices, including making them available through app stores.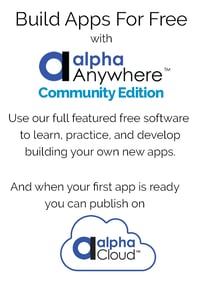 Alpha Software offers the app builder and app development training at NO CHARGE to app creators.
Build, Design, Test and Publish Apps for Free
Alpha Software is unique in the industry because the Company offers free software licenses and training for free. Our goal is to help more businesses learn mobile app development and build their first few apps easily. Once they see the value of mobile devices for delivering and collecting business data they'll continue to transform more businesses processes.
To learn to build and publish powerful web and mobile apps, users can take advantage of the free builder and training:
Further reading: How to Build a Mobile App - A Step by Step Guide
---
Why app builders love Alpha Software training:
"My company can't afford to hire mobile app developers, so I needed to learn to build real-world business apps fast. Alpha Software helped learn me to build the apps my business needs."
- Business analyst, manufacturing industry

"Alpha helped me learn to do app development in the best and fastest way."
- Luan Juapi, Global IT & GIS Desk Officer, The Halo Trust