Want to learn mobile app development? New software and mobile app development training can help anyone become an app creator.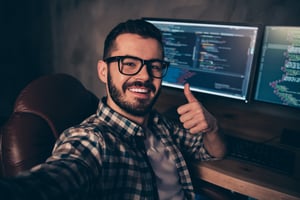 In the beginning, you had to have experience with iOS or Android app development to build mobile apps. Now, virtually anyone can access the software and training necessary to build cutting-edge mobile apps.
Drag-and-drop app makers, low code software, and other solutions have emerged to enable anyone to build mobile apps, from beginning developers to non-technical business owners. The evolution to more simple app development solutions is similar to that of web development and web design. These days, just about anyone, even children, can publish a blog or a web page via widely available tools.
Learn Best Practices for Mobile App Development
While these products and tools are very helpful, there are other aspects to developing mobile apps for iOS and Android devices.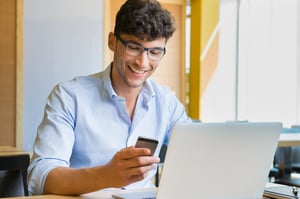 Here are some important factors to consider when building mobile apps:
Understanding various devices' hardware capabilities and limitations.
Creating a UX design for mobile devices that accommodates smaller smartphone and tablet screens.
Creating an intuitive UI design for one-handed data entry and access.
Making the app operable without an internet connection.
Including social media, databases and web services.
Implementing SMS and push notifications.
Learn Outstanding UX Design for Mobile Devices
Alpha Software, a leading app development tool with a long history of serving software developers, offers app development training to anyone who may be interested. The Company offers an online tutorial accessible to those who want to develop real-world apps for iOS and Android devices.
We are pleased to present Getting Started with Alpha Anywhere, a mobile app development training course.
How to Design, Build and Publish Mobile Apps
This app development training walks you through the installation and registration of a free mobile app builder, Alpha Anywhere Community Edition. Once you've installed the software, the app development training begins. You'll receive easy step-by-step instructions on how to build and test your own mobile app.
You'll learn exactly how to publish apps to mobile devices, as well as how to make them available for downloading through app stores.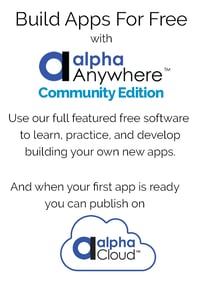 Alpha Software offers the app builder and app development training at NO CHARGE to app creators.
Benefits of Mobile App Development
For businesses across a wide range of industries, adding a mobile app into the customer journey can help maintain a competitive advantage and boost revenue. Take retail for example: In 2020, consumers spent 82 billion hours on mobile shopping apps, marking a 30% increase from 2019. By embracing the rise of mobile, your business can achieve:
Improved customer engagement: When customers are able to easily access your business' products and services via their mobile device, they're more likely to engage with your brand, purchase more products, reach out for support, and so on.
Amplified marketing capabilities: You can attract more consumers to your brand, as well as encourage larger purchases, by turning your app into an additional marketing tool. For example, many businesses use push notifications to alert customers about special deals and promotions, resulting in increased customer engagement, conversions, and sales.
An elevated digital presence: Building a mobile app gives you the chance to reach new audiences and present your business offerings in a fresh and innovative way.
A competitive advantage: Do the other businesses in your surrounding market have mobile apps? If so, it's time to catch up. If not, use this as an opportunity to stand out among the competition.
Data analytics: By collecting data from your business' mobile app, you can learn more about your customers, optimize internal workflows, and develop stronger sales and marketing strategies.
Build, Design, Test and Publish Apps for Free
Alpha Software occupies a unique position in the industry, offering software licenses and app development training for free. Our goal is to help more businesses learn about mobile app development, and to guide them in building their first apps, without requiring excessive time and resources. Once they see the value of leveraging mobile apps to deliver and collect business data, they'll continue to digitally transform more of their business processes.
To learn to build and publish powerful web and mobile apps, users can take advantage of our free builder and training program: Free Mobile App Builder and App Development Training from Alpha Software
Not interesting in writing code? Try our no-code app builder.
Further reading: How to Build a Mobile App - A Step by Step Guide
---
Why app builders love Alpha Software training:
"My company can't afford to hire mobile app developers, so I needed to learn to build real-world business apps fast. Alpha Software helped learn me to build the apps my business needs."
- Business analyst, manufacturing industry

"Alpha helped me learn to do app development in the best and fastest way."
- Luan Juapi, Global IT & GIS Desk Officer, The Halo Trust