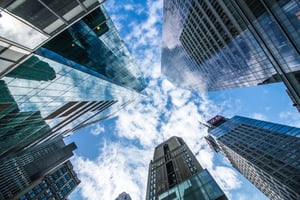 How can low-code mobile app development help companies digitally transform themselves, slash development time and costs, and increase overall productivity and efficiency? The best way to find out is from the companies themselves. The article, "Has low-code programming arrived? These five companies think so," by Jason Bloomberg, founder and president of the agile digital transformation analyst firm Intellyx, details how five big companies have benefited from the use of low-code programming. Following are the highlights.
Collier International Builds Apps Faster and More Cheaply
Bloomberg first looked at Colliers International Group, a global real estate services and investment management company. Although Colliers has 14,000 employees around the world, it has a very small IT staff, with only 300 people. That can make it tough for the company to write mobile apps.
Mihai Strusievici, vice president of global IT at Collier, told Bloomberg that because the IT group is so lean, "We have to compete in a different way with companies that spend more on technology." So Collier turned to low-code programming. The company had retired a number of end-of-life legacy systems. Its old system "had no direct broker interaction," Strusievici said. Using low-code programming, his staff quickly wrote a new, interactive mobile app for brokers. That went so well that the company is building more mobile apps. Strusievici explains, "We want an ecosystem of small, specialized apps with an exceptional user experience. They need to be connected, not siloed." And using low-code programming, he says, they're exactly that.
Optum Aligns Business with IT
Optum, Bloomberg writes, "provides information and technology-enabled health services for its parent, UnitedHealth Group, a diversified health and well-being company." Mark O'Connor, director of the architecture and business process management center of excellence at UnitedHealth Group, says that "Some of the big problems [the company faced] were getting the business and IT to come together."
So Optum turned to low-code programming and solved the problem. The technique allows stakeholders and software developers to work together on developing applications. O'Connor says: "By the time the developers are pulled in, they know what needs to be built, and they can do it more quickly, and it's more clearly defined. We can bring in a more complex problem and let the business sit right down next to us and be involved and get the solution into production quickly."
The Salvation Army Slashes Development Time and Cost
The western region of Salvation Army decided to deploy Office 365 and SharePoint, and they wanted, in Bloomberg's words, "to build workflow-centric applications that leveraged these Microsoft Corp. technologies without incurring additional legacy technology debt."
So they turned to low-code programming, which changed the way they built applications. The result, according to David Brown, director of applications at The Salvation Army's western region: "For most of our applications, we have experienced a 70% to 80% reduction in our application development lifecycle. In most cases, the same single IT staff member assigned to the 'we need an app built' project can take it from initial discovery all the way into production."
Bam Infra (Royal BAM Group) Cuts Time to Market
Royal BAM Group is a European construction firm that has ten operating companies involved in construction and property, civil engineering, and public-private partnerships. One of its business units, BAM Infra, is responsible for infrastructure projects in the Netherlands. BAM Infra was in the middle of a digital transformation project, and as part of that, in Bloomberg's words, "implemented a digital construction initiative that delivered supporting software for both employees and contractors before shovels hit the dirt."
It turned to low-code programming to do it. Frans Verbiest, unit manager for application services at BAM Infra, explains low-code's benefits this way: "When you win the tender, you only have two or three months to get everything up and running before you start the project. Within that period of time all the software must be built, released, tested, et cetera, and if you don't have a low-code platform, you simply won't get it done in time."
bswift (CVS Health) Continually Innovates
Bswift streamlines benefits, HR and payroll administration for employers and public and private exchanges. It's part of CVS Health. To be successful, bswift needs to continuously innovate, or be left behind by competitors.
Devin Parsons, vice president and head of digital transformation at bswift, says low-code is a "must-have" for the company. He explains, "To be a disruptor, you can never stop innovating. We wanted to move upmarket. We required speed and customizability." That's what low-code programming offered. As a result, he says, "We can deliver products in ways that competitors simply can't. We can now be more aggressive in the marketplace."
What's the Best Platform for Low-Code Programming?
No matter the problem you need to solve, you need the right low-code programming platform. Alpha TransForm and Alpha Anywhere work independently or together as a single low-code solution for a wide group of users and business problems. Alpha TransForm helps non-developers craft online or offline mobile apps in minutes that utilize the latest mobile features (camera, GPS, etc.) for fast, accurate data capture apps. Alpha Anywhere is a robust low-code platform for developers to rapidly create mobile-optimized forms and field apps that can easily access and integrate with any database or web service and can exploit built-in role-based security or robust offline functionality. Both solutions work on any mobile device, utilize the latest mobile features (including barcode scanning, GPS, and image markup), and always work offline. Take a free trial for 30 days, including app templates.