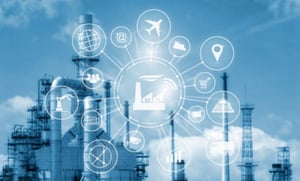 Manufacturers face tremendous challenges and costs in their attempts to digitally transform themselves for Industry 4.0. Costly technologies that require development smarts, including IoT, the cloud, big data analytics and more have been targeted to turn factories into highly, automated workplaces.
But there's a powerful, sometimes-overlooked technology that can lead the way to Industry 4.0 and pay off with big, immediate benefits — no-code tools that can be used by those with direct experience on the factory floor, but who have no development expertise.
That's made clear by the IndustryWeek article, "Citizen Developers on the Shop Floor." The article points out that no-code tools for the factory floor require no coding expertise, and so can tap into "exactly what your rank-and-file workforce and first-tier supervisors have in abundance: years of knowledge about how your assembly line works — or doesn't." Using that expertise, they can quickly write apps to improve efficiency and safety, run the factory floor, and tie it to backend systems.
An excerpt from a white paper from the World Economic Forum points out just how important no-code platforms are for digitally transforming the manufacturing industry: "In recent years some of the world's largest manufacturers have made significant strides in improving shop-floor productivity and yield by democratizing access to shop-floor technology…[low-code platforms] have emerged as an important tool in manufacturers' journey towards digital transformation. They allow manufacturing engineers to easily build shop-floor apps without the need to write code. This enables an organization's manufacturing problems to be addressed by engineers, the stakeholders that actually understand these problems."
As an example, the article points to the benefits that the Orlando-based Nautique Boat Company has achieved by using a no-code platform to transform its manufacturing processes. Using the platform, it can now "track, in real-time, what each of their 89 upholstery shop workers is doing, and the 5,600 parts they use."
In addition, it has replaced a manual process for improving shop-floor production with a digital one. The article says, "Nautique used to manually record stop-watch readings on paper to assess production and look for ways to improve, but that there simply wasn't enough consistent data to make data-driven decisions. Now…they capture data with sensors on variables such as who did what process and how long it took." As a result, productivity continually improves.
---
Case Study:
How One Manufacturing Company Build an App to Dramatically Impact the Business
---
The Best Software for Getting Manufacturers to Industry 4.0

The Alpha TransForm Quality Management Solution is ideally suited for manufacturers looking to improve quality assurance and quality control in order to move to Industry 4.0. Alpha TransForm solutions utilize the latest mobile device features (camera, GPS, time/date stamping, bar code scanning, digital signatures, etc.) for fast, accurate data collection on the production floor, in warehouses, or at customer sites. These quality manufacturing software solutions all have a powerful built-in analytics engine that delivers dashboards you can customize to track KPIs.
Contact us to learn more or view some of our manufacturing solutions.