What's in store for low code development platforms? New research from Gartner says low code app development will be used by three-quarters of large enterprises by 2024.
Enterprises are having a tough time keeping up with the demand from their business units and departments for apps of all kinds, and things aren't getting easier. There are myriad reasons for that, but key among them is the difficulty in hiring experienced developers and tech talent and getting more out of existing staff.
Data Shows Companies are Struggling with App Development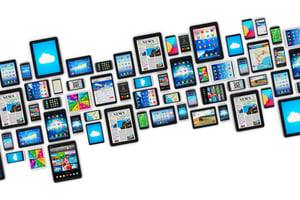 The staffing company Robert Half notes in their recent salary guide and survey that "67% of IT managers said they want to expand their teams in areas such as security, cloud computing, and business intelligence, but 89% report challenges in recruiting that talent." And it warns that "staffing challenges are not just an IT problem…Digital initiatives are often enterprise-wide in scope and scale…Without skilled IT talent behind them, these efforts can fail to meet expectations – or never even get off the ground."
And if companies can find talent, they'll have to pay top dollar. Good, experienced mobile app developers, applications architects, and software engineers with the right skills sets have average salaries between $184,000 and $206,500, the survey found.
Low-Code Development Can Eliminate these Bottlenecks
Those are just some of the reasons that no-code and low-code app development platforms are the future for enterprises. In fact, it's safe to say that ever-increasing application scope is in store for low code app development platforms. They allow domain experts and line-of-business staff — so-called citizen developers — to write apps without a high level of expertise. And they make IT staff far more productive.
Gartner on the Low-Code Market

In terms of what's in store for low code app development platforms, Gartner's "Magic Quadrant for Enterprise Low-Code Application Platforms" report found "By 2024, three-quarters of large enterprises will be using at least four rapid application development tools for both IT application development and citizen development initiatives…By 2024, low-code application development will be responsible for more than 65% of application development activity."
The low code no code Gartner report singled out Alpha Software for honorable mention because of its no-code, low-code prowess.
It's not just the Gartner low code report that hails Alpha. The SD Times's guide to low-code, no-code solutions notes: "Alpha Software offers the only unified mobile and web development and deployment platform with distinct "no-code" and "low-code" modes. The platform materially accelerates digital transformation by allowing (LOB) line of business professionals to work in parallel with IT developers, to build the smartphone apps they need themselves and thereby significantly cut the bottleneck traditionally associated with the development of mobile apps."
Jason Wong, a vice president, and analyst at Gartner explained to SearchMobileComputing why solutions like Alpha Software's Alpha Transform and Alpha Anywhere are ideal for enterprises: "There is big demand being driven primarily by the business units. IT now realizes there is this new generation of low-code tools they need to look at. What helps a company like Alpha Software here is the big skills gap in mobile apps."
How Enterprises Benefit From Using Low code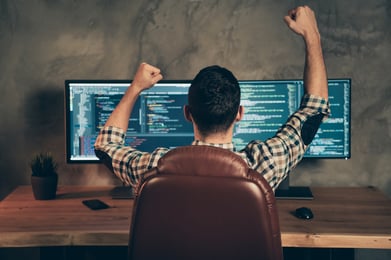 Both low code and no-code development have a lot to offer. With the former, enterprises can create apps for multiple mobile device platforms within days or hours, depending on the type of app that is being built. Development teams can digitize virtually any business process with user-friendly apps more quickly. As it significantly reduces the efforts needed to develop apps, low code requires lesser resources, which in turn greatly reduces costs too. It makes simpler, speedier, and cost-efficient completion of projects a reality.
What's more, once approved by senior management, enterprises can produce business apps with a single click. However, going beyond time and cost savings, low code offers advanced features that help build quality apps. It's equipped with cross-platform support, data integration, and robust security capabilities that help build secure and advanced apps with great functionality. Moreover, the ability to customize these features for each app offers flexibility and the creation of varied types of custom apps.
Ultimately, low-code software allows professional developers to build apps up to 10 times faster than traditional development.
Recent statistics on the speed of development with low-code software:
Low code/ no-code

solutions

have the potential to reduce the development time by 90%.

(Redhat)
80% of survey respondents believe that using low code can free developers time to work on higher-level projects. (G2Crowd)

72% of users are developing apps with low-code applications in 3 months or less (Mendix)

Low-code users are 12% more likely to say that their app backlog has improved. (Outsystems)
Companies avoided hiring an average of two app developers using low code tools. (Forrester)
70% of inexperienced, new low code users learned to develop with low code software in 1 month or less. (Mendix)
How Enterprises Benefit From Using No Code
Although low code minimizes the technical expertise and hard work required for building an app, users may need some tech skills to use this software. On the other hand, no-code app makers offer enterprises the ability to build apps without any technical knowledge.
Using no-code software, even business users can build apps without any training. Drag and drop solutions are the easiest to use, with users being able to build apps in minutes. Some software solutions utilize text builders, where users type in field names and select the type of data entry tool they want associated with data entry capabilities in the app. Many of these solutions also offer pre-built templates that users can download and edit to build an app for their specific use.
As a result, no-code software empowers an enterprise's non-technical users too to build applications based on their specific needs, thereby freeing IT staff to work on more complex projects.
The Best Low-Code App Development Platform for Enterprises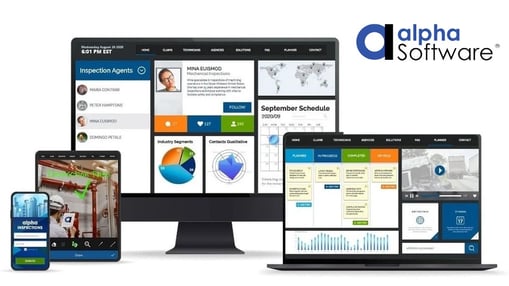 Alpha Software offers the only mobile app development platform with both "low-code" and "no-code" development environments.
The Alpha Anywhere low-code environment can develop and deploy secure business applications with a rich user interface. These web and mobile apps can integrate existing systems of record, popular software, and workflows, and include advanced security or authentication requirements to protect corporate data. Offline capability is also built-in and can be customized. Using the Alpha TransForm no-code app builder, business users can turn any paper form into a powerful mobile app in minutes without having to code. Developers can use a free version of the software to build an unlimited number of apps, then pay as little as $99 per month to deploy their apps.
The Alpha TransForm no code app builder enables workers to build cross-platform business apps without any coding. Business users can turn paper forms into a mobile data collection app in minutes, which take full advantage of all the capabilities of the smartphone, including photos, mapping, audio recording, bar code scanning and more. The software builds offline apps automatically. In addition, Power users & developers can add advanced app functionality with Alpha TransForm's built-in programming language. Business users can try the app maker free for 30 days, then pay as little as $29 per month for the software.