What's in store for low code app development platforms? New research from Gartner says low code app development will be used by three-quarters of large enterprises by 2024.
Enterprises are having a tough time keeping up with the demand from their business units and departments for apps of all kinds, and things aren't getting easier. There are myriad reasons for that, but key among them are the difficult in hiring experienced developers and tech talent, and getting more out of existing staff.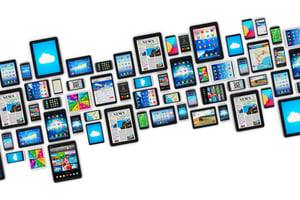 The staffing company Robert Half notes in their recent salary guide and survey that "67% of IT managers said they want to expand their teams in areas such as security, cloud computing and business intelligence, but 89% report challenges in recruiting that talent." And it warns that "staffing challenges are not just an IT problem…Digital initiatives are often enterprise wide in scope and scale…Without skilled IT talent behind them, these efforts can fail to meet expectations – or never even get off the ground."
And if companies can find talent, they'll have to pay top dollar. Good, experienced mobile app developers, applications architects and software engineers with the right skills sets have average salaries between $184,000 and $206,500, the survey found.
Those are just some of the reasons that no-code and low-code app development platforms are the future for enterprises. In fact it's safe to say that ever-increasing application scope is in store for low code app development platforms. They allow domain experts and line-of-business staff — so-called citizen developers — to write apps without a high level of expertise. And they make IT staff far more productive.
In terms of what's in store for low code app development platforms, Gartner's "Magic Quadrant for Enterprise Low-Code Application Platforms" report found "By 2024, three-quarters of large enterprises will be using at least four low-code development tools for both IT application development and citizen development initiatives…By 2024, low-code application development will be responsible for more than 65% of application development activity."
The low code no code Gartner report singled out Alpha Software for honorable mention because of its no-code, low-code prowess.
It's not just the Gartner low code report that hails Alpha. The SD Times's guide to low-code, no-code solutions notes: "Alpha Software offers the only unified mobile and web development and deployment platform with distinct "no-code" and "low-code" modes. The platform materially accelerates digital transformation by allowing (LOB) line of business professionals to work in parallel with IT developers, to build the smartphone apps they need themselves and thereby significantly cut the bottleneck traditionally associated with the development of mobile apps."
Jason Wong, a vice president and analyst at Gartner, explained to SearchMobileComputing why solutions like Alpha Software's Alpha Transform and Alpha Anywhere are ideal for enterprises: "There is big demand being driven primarily by the business units. IT now realizes there is this new generation of low-code tools they need to look at. What helps a company like Alpha Software here is the big skills gap in mobile apps."
How Enterprises Benefit From Using No Code vs. Low code
Both low code and no code development have a lot to offer. With the former, enterprises can create apps for multiple platforms within days or hours, depending on the type of app that is being built. As it significantly reduces the efforts needed to develop apps, low code requires lesser resources, which in turn greatly reduces costs too. It makes simpler, speedier, and cost-efficient completion of projects a reality.
What's more, once approved by senior management, enterprises can produce apps with a single click. However, going beyond time and cost savings, low code offers advanced features that help build quality apps. It's equipped with cross platform support, data integration, and robust security capabilities that help build secure and advanced apps with great functionality. Moreover the ability to customize these features for each app offers flexibility and the creation of varied types of apps.
Although low code minimizes the technical expertise and hard work required for building an app, users may nonetheless need some tech skills. On the other hand no code software offers enterprises the ability to build apps without any technical knowledge. Using no code, even business users can build apps without any training. Therefore no-code software empowers an enterprise's non-technical users too to build apps based on their specific needs, thereby freeing IT staff to work on more complex projects.
The Best Low-Code App Development Platform for Enterprises
Alpha TransForm (for non-developers) and Alpha Anywhere (for developers) work independently or together as a single platform for digital transformation and other important enterprise projects.
Alpha TransForm helps business users craft online or offline mobile apps in minutes that utilize the latest mobile features (camera, GPS, etc.) for fast, accurate data capture. Need an app that will be used by your organization's business users? Without any technical skills, your business domain employees can build apps that address their specific business needs, using Alpha Transform.
Alpha Anywhere has the unique ability to rapidly create mobile-optimized forms and low-code field apps that can easily access and integrate with any database or web service and can exploit built-in role-based security or robust offline functionality.
Learn more about Alpha TransForm and try it free for 30 days.