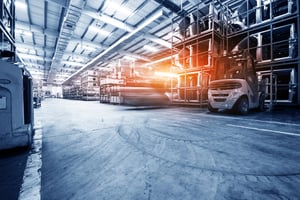 We're well into the fourth industrial revolution and the digital transformation of the manufacturing industry. Called Industry 4.0, it's powered by advanced digital technologies such as artificial intelligence, augmented reality, IoT, and smart factories that drive the gathering of tremendous amounts of real-time data and big-data analytics.
At its core, Industry 4.0 is powered by mobile. Without mobile tech, Industry 4.0 would be impossible.
Perhaps the most succinct explanation of the importance of mobile in Industry 4.0 comes from Samsung executive Josh Gibson, who in a blog post describes the important cloud technologies that are transforming manufacturing and concludes: "Forward-thinking manufacturing companies are using mobile devices as the platforms through which plant management and workers can easily connect and communicate with these cloud technologies — and at scale — to create an agile, responsive and truly collaborative environment."
Anurag Lal, CEO and President of Infinite Convergence Solutions, concurs in his blog post "5 Ways Mobile is Driving the Next Wave of Technological Innovation." Successful Industry 4.0 depends on how well business processes, IoT, and mobile work together:
Lal writes: "The key to staying competitive in this new era of innovation is the confluence of IoT and mobile. With IoT's ability to combine data generation with connected devices, manufacturers can mine through more data than ever before. By combining that data generation with mobile's ability to provide networks, mobile and IoT will enable increased visibility within the manufacturing market."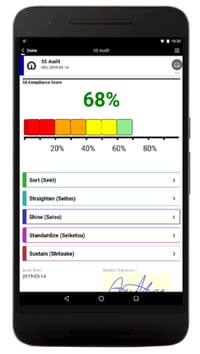 Veslabs, which provide solutions for Industry 4.0 and visibility into the supply chain offers a long list of the ways mobile apps are vital to transforming the manufacturing process in its blog post, "Mobile apps in Industry 4.0." Among the ways are asset management, eliminating paper-based systems, better assigning the right number of employees and resources to specific tasks, collaboration, and actively measuring the productivity of employees.
One example is a 5S Lean Audit app that tracks workplace organization, with the goal of reducing waste and increasing efficiency. When conducted regularly, 5S audits result in continuous improvement -- reducing production costs while increasing productivity, safety, and employee satisfaction.
The post offers this overall insight into how mobile apps can help digitally transform factories: "Industry 4.0 is characterized by decentralized intelligence. All parties can communicate with one another, with machines, machine with machine, or with higher-level processes… Industrial apps will play an essential role to ensure this type of communication. The reasons are clear: apps are easy to use, cost-effective, and available everywhere in a user-friendly format."
Manufacturing Solutions for Industry 4.0
To build mobile apps that achieve Industry 4.0, manufacturers must choose an app development company with manufacturing experience and a powerful platform for data collection, analysis and action.
Alpha Software Manufacturing Solutions allows manufacturers to digitally transform their quality control and quality assurance processes. Alpha TransForm allows manufacturing employees to craft online or offline mobile apps in minutes that utilize the latest mobile features (camera, GPS, etc.) for fast, accurate data capture. The company has a range of quality management solutions and other manufacturing apps.
The solutions speed data collection on the factory floor, offer built-in analytics and dashboards for rapid insight, and tie into corporate systems to make the data available for use immediately. The solutions can use timely data to power workflow processes, initiate an emergency stop, take corrective action, or trigger order replacements. You can try Alpha Software solutions for free, including our 5S Audit app, our Gemba Walk App or our Non-Conformance Report Template.
Book a meeting to see a demo and learn how we can quickly build the right solution for your needs.

We'll Digitize Your Manufacturing Forms
Gemba Walks • Workplace Audits • Non-Conformance Reports • Yellow Sheets •
Temporary Deviation Authorizations • Shortage Sheets • Supplier Defects Per Unit Reporting • ISO Certifications •
Work in Progress Tracking • Inventory Tracking • Workplace Wellness • and more
Powerful Solutions for Inspectors, Engineers, Assemblers and Production Teams