The digital transformation of manufacturing, often called Industry 4.0, is well underway, and manufacturers have begun reaping its benefits. The Capgemini report, "Smart Factories: How can manufacturers realize the potential of digital industrial revolution," says smart factories may add up to $1.5 trillion to the global economy by 2022. It concludes "smart factories can nearly double operating profit and margin for an average automotive OEM manufacturer."
The report also found that 76 percent of manufacturers "either have a smart factory initiative that is ongoing or are working on formulating it." Despite, that, though, it warns "Only 14% companies are satisfied with their level of smart factory success." That means that plenty of manufacturers are trying to get to Industry 4.0 but face significant roadblocks along the way.
Challenges on the Path to Smart Factory Success
It needn't be that way. An article in The Manufacturer, "Digital Transformation: How to avoid the five common pitfalls," offers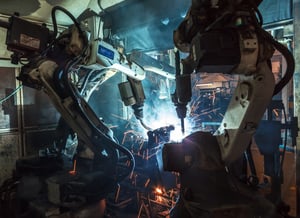 .
First, it recommends, manufacturers shouldn't bite off more than they can chew. It says, "For many engineers and factory managers, it can sometimes seem as though Industry 4.0 needs to be applied everywhere immediately, and it's easy to fall into the trap of believing that digitalization demands a complete overhaul."
Doing that, though, will lead to significant problems, because it's too much for a company to manage, and it won't allow manufacturers to pinpoint where the ROI is. Instead, the article advises, "Remember, this is evolution, not revolution. Upgrading to Industry 4.0 in manageable steps not only allows businesses enough time to make well-researched and considered decisions, but also gradually introduces employees to the new technology around them. "
Second, the article says, manufacturers need to ensure that the equipment and communications standards they choose are flexible and can accommodate change. It advises, "Selecting the correct standard at the start of your digital journey is essential…For machines, that means connections which not only meet the standards of today but will also be easily modified in response to future changes."
Next, the article says, manufacturers must plan carefully, and make sure that all stakeholders are involved in digital transformation, particularly in deciding what data needs to be collected. It explains, "By visualizing the data that is being collected, employees can share their expert insights and knowledge to help manufacturers understand what is important to measure – from machine performance through to functions such as logistics and purchasing."
The fourth mistake manufacturers need to avoid is overlooking security. Cyber-attacks are becoming more prevalent, so security needs to be baked into the process every step of the way.
The final pitfall, the article concludes, is re-inventing the wheel. Manufacturers should select standard solutions rather than build proprietary ones whenever possible, it says. It concludes, "This approach further helps manufacturers maximize the value of Industry 4.0 upgrades over the long term, reducing restrictions on upgrade options in the future."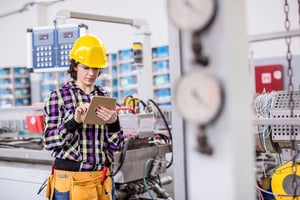 The Best Mobile App Development Platform to Help Manufacturing Get to Industry 4.0
To get to Industry 4.0, manufacturers need to choose the right platform. And Alpha TransForm (for non-developers) and Alpha Anywhere (for developers) are ideal to help manufacturers digitally transform their businesses. Alpha TransForm and Alpha Anywhere can work independently or together as a single platform and are ideally suited for digital transformation. Alpha TransForm helps business users craft online or offline mobile apps in minutes that utilize the latest mobile features (camera, GPS, etc.) for fast, accurate data capture. Alpha Anywhere has the unique ability to rapidly create mobile-optimized forms and field apps that can easily access and integrate with any database or web service and can exploit built-in role-based security or robust offline functionality. Learn more about Alpha TransForm and try it free for 30 days.
Read how JC Payne (a trucking manufacturer) streamlined processes for quotations, production progress, vehicle administration and warranty handling with digital forms.
Read How GBS Enterprises (a furniture manufacturer) moved from paper forms to a mobile warranty claims app to dramatically improve warranty tracking, dispatch efficiency and customers satisfaction - increasing field productivity by 80%.

Manufacturing Solutions for Industry 4.0
Digitize your data collection, workflows and analysis to bring your organization into the Industry 4.0 era.
Contact us today and we'll build the right solution for your needs.
We also offer pre-built solutions we can customize quickly for your business, such as our non-conformance report template, 5S Audit form app, Gemba walk app or others.