If you're looking to digitally transform a service business, simply mobilizing a workforce goes only so far. Mobile apps and field service management software can certainly make field workers and service personnel more efficient. But if those mobile apps don't integrate with the business's front-end and back-end systems, those efficiencies will remain limited. The company will work much the same as before, only slightly more effectively.
True digital transformation that dramatically streamlines processes, accelerates accurate data collection and solid decisions, and improves customer service. The best field service solutions are built on mobile apps that work as hard as field workers do.
That's the problem that GBS Enterprises was looking to solve. The company provides a wide range of "protection" services to the furniture, mattress and bedding, and pest control industries. Its customers include many of the Top 200 furniture and bedding retailers throughout the United States. It was looking to increase the productivity of its field service workers as well as the rest of the enterprise.
The Company chose Alpha Software for its field service management solution, including a complete call center and service dispatch application, and adopting mobile forms.

GBS badly needed these new systems because of the sheer size of its business. It has a team of 200 operators receiving and logging customer requests, starting work orders and scheduling dispatch of field service workers responding to furniture warranty claims. Some days the Company needs to initiate, log and track over 300 work orders. It must make sure all the data from every call gets captured and sent through to the Company's backend systems.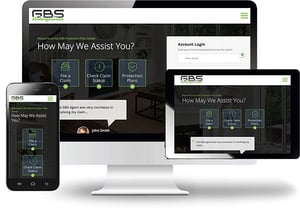 Work orders had previously been filled out on paper, leading to wasted time and potential errors. Similarly, data was captured by hand on-site, and needed to be input later into the company's systems by a second back-office worker. The data that was captured was very limited and included little backup material for service calls, such as photos of the furniture damage or issue.
With Alpha TransForm, all that has changed. GBS has been mobilizing its field work by building mobile service dispatch apps using Alpha TransForm. Work orders that were previously on paper are now created with workers' smartphones. Technicians using the app are improving the data collection accuracy and depth, capturing images and scanning bar codes to initiate and processing claims.
In fact, GBS realized an 80 percent increase in productivity in the field. Those benefits flow through the entire company because the mobile apps integrate with the business's front office and back office system. The end result: An overall improvement in the company's operations and customer satisfaction. Read the detailed GBS Enterprises case study and learn more about Alpha's field service apps.
---
GBS realized an 80% increase in productivity in the field by using Alpha TransForm.
---

GBS Enterprises is not alone in reaping big benefits for its field service workers by going paperless. The Building Engineering Company, which does onsite energy inspections, used them to switch from paper-based inspections to mobile, digital ones. Read how an offline equipment inspection app built with Alpha Anywhere helped a company increase worker safety and data accuracy.
---
---