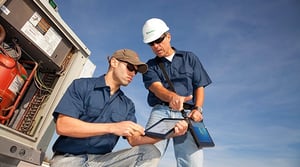 Increasingly, companies are recognizing that mobile apps do far more than transform the way in which office workers do their jobs. Some of the biggest payoffs come when field service teams use mobile field service apps. As I've written before, mobilizing first line workers is the fastest way to digital transformation.
Top Benefits of Mobile Field Service Apps
How do mobile apps manage to do this? The article, "7 Ways Mobile Apps are Transforming the Field Service Industry," provides a great summation of the most important reasons apps improve field service productivity, and give an entire enterprise a significant boost.
The article starts off by noting that a mobile field service app has a 50 percent ROI in only two years. It adds, "There are a lot of benefits to be had, from quicker response times to real-time tracking and happier customers." It then details seven ways that mobile transforms the field service industry. Summaries of them are below.
Team and Resource Tracking
Perhaps the most important transformative capability of mobile apps, the article notes, is that they can tap into the GPS capabilities of smartphones and automatically track teams and resources. Businesses can see real-time locations of technicians, and more efficiently deploy them. No need for phone calls to check on workers. The location and progress of an entire fleet can be seen at a glance.
Less Confusion Between Dispatchers and Techs
With mobile apps, in-the-field techs don't have to check in with dispatchers for job updates, eliminating confusion and errors. The result, according to the blog: "Your team will have more information, and more up-to-date information on hand when they complete a job. Dispatch will also have instant access to job updates from the field, and technician location, without needing to pick up the phone."
Increased Field Team Efficiency
Field service work is far too inefficient. The blog notes "The average service company only has a 72% compliance rate with stated response time and a 64% workforce utilization." That's because paper-based systems are inherently inefficient and prone to error.
With mobile apps, field service workers need not pick up paperwork orders at the beginning of the day. They just check the mobile forms on their apps, which means there is no lost paperwork or errors. The blog concludes, "With mobile support, you can simplify operations and increase overall data accuracy. Fewer errors, and access to more data, means better adherence to your company's processes and industry best practices."
The best field service mobile apps and field inspection apps provide access to service history, schedules work and includes push notifications to increase productivity.
Sync Data to the Cloud
Thanks to the ability of mobile apps to sync data to the cloud, field service workers always have access to the latest information they need. The result, says the blog: employees can be in the field more hours of the day, improving on-time rates and staff utilization, and manual errors are reduced.
Instant Access to New Information
Field service workers live with constant change. Appointments are often canceled, added, or moved, and emergency calls frequently come in. The blog notes, "With a mobile approach, that information can be updated quickly for instant access by staff in the field. Notifications can alert them to real-time updates for assigned jobs whenever there is a change, meaning less confusion and more efficient use of their time."
Another trend is making sure technicians can access information whenever or wherever they need it - even without internet connectivity.
Improved Customer Experience
Customers are not always happy with the service they get. Being able to schedule their appointments via mobile apps can change that. The blog points to a study by CSG International that found 89 percent of customers prefer having an app that will give them technician location and arrival times and 70 percent want to see a technician's name and photo. And 86 percent of respondents said they would pay $25 make the scheduling process more convenient.
Access to the Full Range of Smartphone Capabilities
Mobile apps can take advantage of the full range of smartphone capabilities beyond GPS, including barcode scanning and cameras. Barcode scanners can help staff more easily track inventory and parts. Cameras can document the work done in the field. The result, says the blog, are improved operations across the board.
How to Build Mobile Field Service Apps that Transform Field Service Operations
Field Service Management (FSM) includes managing effective methods for gathering data. The best teams use field service management software to improve the data collection process. Not only with this type of software improve data accuracy, but the software will also have a dramatic impact on customer service, inventory management and more.
Alpha TransForm (for non-developers) and Alpha Anywhere (for developers) can work independently or together as a single platform, and are ideally suited for building mobile apps for field service technicians. For example, our sample mobile form apps have simplified field work in a myriad of industries – from construction to healthcare. For example, learn about our field inspection apps.
Alpha TransForm helps business users craft mobile field data collection apps in minutes with offline capability. They work on all mobile devices and utilize the latest mobile features (camera, GPS, etc.) for fast, accurate data capture. Alpha Anywhere has the unique ability to rapidly create mobile-optimized forms and field apps that can easily access and integrate with any database or web service and can exploit built-in role-based security or robust offline functionality.
Try Alpha TransForm FSM software for collecting data free for 30 days.