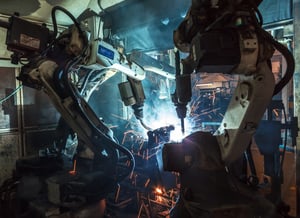 The manufacturing industry is often seen as a retro throwback to an old, dying economy, one based on brute strength, big equipment, and cheap raw materials. If you're looking for companies being revolutionized by digital transformation, AI, analytics and the Internet of things, some people believe, you should look elsewhere.
But nothing could be further from the truth. Transforming manufacturing facilities into smart factories has the potential to dramatically increase efficiency and productivity and add countless hundreds of billions of dollars to the economy and companies' bottom lines. It's something that's starting to happen today. But companies need to overcome a number of roadblocks to make it happen and happen right.
Let's start with some numbers that show off smart factories' potential. A Capgemini report, "Smart Factories: How can manufacturers realize the potential of digital industrial revolution," found that smart factories could add as much as $1.5 trillion to the global economy by 2022. They are expected to increase the efficiency of manufacturing over the next five years at seven times the growth rate since 1990, the report says. And it concludes that "smart factories can nearly double operating profit and margin for an average automotive OEM manufacturer."
Manufacturers know this and are rushing to deploy digital initiatives. The report says that more than three-quarters of manufacturers — a full 76 percent — "either have a smart factory initiative that is ongoing or are working on formulating it." More than half of all manufacturers, the report adds, have put $100 million or more towards developing smart factories.
All that is to the good. But there are serious problems as well. The report warns "Only 14% companies are satisfied with their level of smart factory success. Only 6% of manufacturers are 'Digital Masters': at an advanced stage in digitizing production processes and with a strong foundation of vision, governance and employee skills."
What's holding companies back? One big problem, the report found, is a lack of coordination among different units. Another issue, it adds, are that companies aren't investing enough in their initiatives.
There's another serious problem as well, according to the SearchERP blog post, "Smart factory may hinge on identifying needed skills." Manufacturers, like many other industries, simply can't find and hire enough qualified people for digital transformation, including developers, mobile app pros, and other digital experts.
Scott Rogers, technical director at Noble Plastics, a small manufacturer of custom-molded products based in Coteau, Louisiana, puts the problem bluntly: "We have to market ourselves well because we're not the typical kind of place that people with those skills want to come and work [for]."
How Can Manufacturers Transform their Facilities into Smart Factories?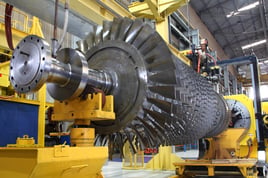 Given those problems, what's the best way for manufacturers to create smart factories? They need to find an experienced manufacturing solutions provider that can help all departments collaborate more closely.
Alpha Software builds manufacturing solutions to help manufacturing employees succeed with Industry 4.0 and digital transformation. The company can build your safety inspection app, non-conformance report app, equipment inspection app, and more. Alpha Software also has pre-built solutions, such as the Gemba walk app, that can be customized for your use.The solutions utilize the latest mobile features (camera, GPS, time/date stamping, bar code scanning, etc.) for fast, accurate data collection. Each solution also has a built-in analytics engine that produces dashboards for rapid insights.
Talk to us and we'll get working on the right solution for your needs.
---

We'll Digitize Your Manufacturing Forms
Gemba Walks • Workplace Audits • Non-Conformance Reports • Yellow Sheets •
Temporary Deviation Authorizations • Shortage Sheets • Supplier Defects Per Unit Reporting • ISO Certifications •
Work in Progress Tracking • Inventory Tracking • Workplace Wellness • and more
Powerful Solutions for Inspectors, Engineers, Assemblers and Production Teams
---
Further reading: