As the United States struggles to fight COVID-19 and recover from the pandemic, it has a not-so-secret weapon: Low-code platforms.
The platforms have helped biotech companies develop vaccines in record time, healthcare providers confront the medical crisis, and government agencies get aid to those in the struggling economy.
So concludes the article, "Low code helped put out COVID-19 fires. How can leaders sustain momentum?"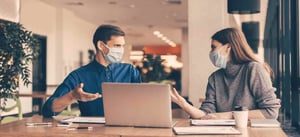 The platforms speed up the applications development process, eliminate most hand coding, build applications more effectively, and quickly code apps such as mobile applications.
Moderna, whose coronavirus vaccine was the first to undergo Phase 3 clinical trials, faced a critical problem of onboarding new employees quickly. The faster they were onboarded, the quicker they could get started on software development required to develop and test a vaccine.
So they turned to low code development. The article says, "A low-code platform put all onboarding resources in one place to help bring new workers up to speed quickly."
Low code also helped healthcare provider Geisinger improve business processes and workflow automation.
Gertner had to build a platform "to adapt to a 50% decline in outpatient visits and a surge of in-patient and ICU needs, mostly in rural parts of Pennsylvania," the article says.
The HR department had to know which medical professional were qualified for which type of work, and get them to the right locations quickly.
So using low code, in only two days they wrote a business application which "helped coordinate and assign placements of 2,000 healthcare professionals in their network."
Low code is particularly important, given the social distancing required by the pandemic. The article notes, "In pandemic times, the public's need to avoid proximity to others makes processes more complex. Tasks that might have been taken a 10-minute visit are now introduced to new friction, including use cases that saw spikes in demand as the economy worsened."
That made it much more difficult for the City of San Antonio to get public assistance to people who needed it most.
Far more people than ever needed public assistance. So to help provide help while social distancing, the city turned to a low-code platform. They used it to create applications that streamlined its public assistance program.
A platform was built that allowed people to apply for rental, mortgage, utility, and relocation assistance online.
More than 3,000 people applied for assistance in a single day. Without the platform, that would have been impossible. Those in need were able to get help more quickly.