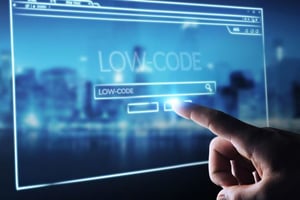 We're entering a world in which the tools and expertise required to build powerful, high-level software applications are within the reach of any company, of any size. Once, only enterprises with top-notch expertise could do that. But increasingly, it's within the reach of everyone, thanks to four technologies: GitHub, which lets you find code others have built, and customize it for yourself; no-code programming platforms; the democratization of data and analytics; and the democratization of AI tools. So concludes the Forbes article, "How Github, Low Coders & Microsoft Forever Changed Programming – & Business Strategy." In this article, I'll cover how no-code platforms are changing programming and business strategy.
No-code platforms, the Forbes article notes, are great for both designing and building powerful applications, and can be used to great effect by both citizen developers and professional programmers. The article points to a Hackernoon article which summarizes a Forrester report which covers two complex projects which built using no-code/low-code tools.
One of those projects was a document compliance module for the U.S. government. It was estimated that it would take 100 person-months to complete it using traditional programming methods. But when a low-code tool was used to build the module it took only five person-months — one-twentieth of the estimated time.
The other project was an employee portal for a British insurer. The project was so complicated that it "was on the technology management backlog list for years with little hope of ever starting," Forrester says. However, using a low-code platform, a minimum viable product was built in only 10 days.

The Hackernoon article notes, "Both projects had teams of highly skilled developers using low-code solutions that took most of the tedious programming work out of the project. Most businesses don't have those sorts of resources. But if they have a no-code platform, they can build the technology they need, without having to rely on teams of developers. Instead, they can get new, innovative ideas from anyone in the company, even Drew in accounting."
The Hackernoon article sums up the lessons learned from the projects this way: "No-code platforms are the key to improving competitive advantage. By opening up the transformative power of developing to everyone in a company, you can boost productivity. You can ensure disruptive ideas can come from any part of your company, despite any lack of technical skill. And you can even bring your company into the future by creating truly bespoke software solutions quickly and easily, testing and improving things as you work."
Choosing the Best No-Code/Low-Code Platform
Alpha Software products are ideal for companies of all sizes that want to build powerful business applications and apps. Alpha TransForm helps business users craft online or offline mobile apps in minutes that utilize the latest mobile features (camera, GPS, etc.) for fast, accurate data capture. Alpha Anywhere has the unique ability to rapidly create mobile-optimized forms and field apps that can easily access and integrate with any database or web service and can exploit built-in role-based security or robust offline functionality. Learn more about Alpha TransForm and try it free for 30 days.