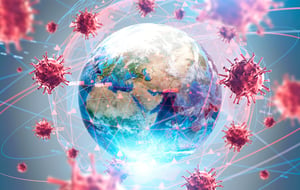 New York City, the besieged center of the worldwide coronavirus (COVID-19) pandemic, has turned to a surprising tool to help fight its spread and keep city residents as safe as possible — low-code development. CNBC reports that the city built a sophisticated crisis-management system in a matter of days "without writing one line of computer code" in order to battle the COVID-19 pandemic.
At the heart of the system is an online portal, which in the words of the article, "allows New York to map the virus and identify hot spots, as well as connect residents to critical services." The entire system was written in just 72 hours, using drag-and-drop visual tools.
Jessica Tisch, commissioner of the NYC Department of Information Technology and Telecommunications and the Citywide CIO, explains why a no-code tool was chosen for development: "Information is power, and we are in a race against the clock. To fight the coronavirus pandemic, we need not only more medical equipment and testing but also more data in real time."
The portal can be easily customized for other cities, counties and states, and can be live in within 48 to 72 hours, the article notes.
The speed and sophistication of putting together the system is a harbinger of the way much development will be done in the future, many experts believe, including Charles Lamanna, corporate vice president of the citizen applications platform at Microsoft. Lamanna says Microsoft expects that 500 million apps will be written in the next five years, which is more than the total number of apps built in the last 40 years. He explains, "450 million have to be built with a low-code tool. There are not enough humans to code fast enough to build that many. Professional developers should focus on harder challenges than another expense submission form or approval form."
---
"Apps for fieldwork are growing five times faster than IT departments can satisfy."
---
He adds, "There are tons of processes today tracked in Excel spreadsheets, and being able to move to an app improves efficiency. Apps for fieldwork are growing five times faster than IT departments can satisfy." Those are the kinds of apps that are ideal for low-code and no-code development, he says.
No-code and low-code tools are vital because enterprises simply can't hire enough highly trained developers to write all the apps that they need. He says, "There is a 1 million developer shortfall in the U.S. alone, and all these companies are struggling to create content and applications to go truly digitally native. You don't need someone who studied comp sci for four years."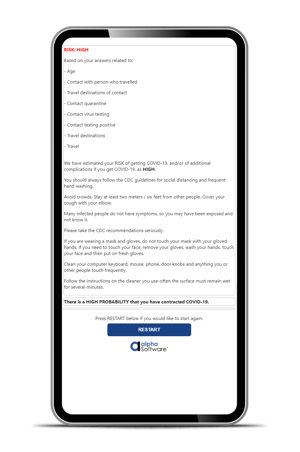 An Example of Low Code App Development at Work on COVID-19 Projects:
Working with a cardiologist on the front lines of the COVID-19 pandemic battle, Alpha software developed and deployed this COVID-19 Risk Assessment App in days to enable people everywhere to assess their risk for COVID-19. Read about the app and access it anonymously for free.
Learn how to get employees screened for COVID-19, managed through the quarantining process and back to work with the AlphaMED Workplace Wellness App.
Working on a COVID-19 App? Get Low-Code Help!
Are you developing a COVID-19 related app or data collection application? Alpha Software is offering complimentary low-code software licenses and services to help anyone building COVID-19 apps or other related wellness apps. Alpha apps include robust mobile features, such as GPS, digital signatures, photo capture and markup, and offline capability -- allowing you to get a richer COVID-19 app to market faster. To get help with your COVID-19 apps during the pandemic contact us.