Health experts have plenty of advice for business owners that want to reopen, while keeping both employees and customers safe. As we all know, of prime importance includes wearing masks, washing hands frequently and social distancing.
In addition, personal protective equipment, contact tracing and face masks can protect against virus spread in the time of the COVID-19 pandemic. But that's only part of safely reopening your business.
Businesses also need to become more resilient. That means possibly rethinking the entire way they function.
So concludes the article, "Back to Work" from Bain and Company. It notes, "The recovery will mean restarting—in some cases, reinventing—operations in an unstable world of shifting conditions."
It sums up the issue this way: "The leading companies will be defined by their ability to balance resilience, adaptability and prediction. They'll advance where they can, retreat as soon as they must and adapt as needed. They'll build experience to do that again and again, by office, by work site, by plant, by community, by country. And they'll put in place the right mitigation protocols and support to protect their employees, many of whom are eager to get back to work, but worried about the risk of getting sick."
The article offers a single, overarching method for reopening safely. First, it says, companies should return their workers to sites in waves. Then they need to retreat and retrench as conditions in the community, among suppliers and at worksites change. The next step is to adapt to those new conditions.
And then they need to repeat that process, continually.
It points to these five factors that must be kept in mind when doing all that:
Proximity: How close are workers to one another?
Nature of contact: What do workers touch, including workplace items, other workers and customers?
Duration: How long does each interaction take?
Number of different contacts: How many total interactions occur in a day?
Ability to screen and remove: Do you have screening points or protocols to protect workers and customers from contact people who are contagious?
All that may sound tough to do. But, the article notes, it's easier than you think. It concludes, "The good news is that mitigation policies, new infrastructure and individual behavior changes can dramatically reduce that risk, even in the environments that currently pose the greatest danger of transmission."
The Best Solutions to Help Safely Reopen Your Business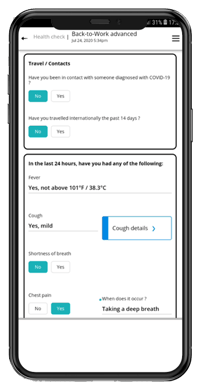 One key to doing all this is having the right platform and app templates to help you reopen safely.
Alpha Software products are ideal for companies of all sizes that want to build powerful business applications and apps for reopening safely. Don't have the time to build your own apps? AlphaMED offers a COVID-19 Workplace Wellness App and a COVID-19 screening "Back to Work" App that provides a simple solution to help screen employees to safely return to the office using their cell phones. The app enables budget-conscious organizations to immediately implement a COVID-19 screening process to meet local reopening guidelines. This app aids large HR departments, local and state governments, small businesses, schools, restaurants, retail outlets and churches that cannot build screening centers or cannot staff temperature checks but still need to find ways to safely reopen. The app adapts to changing Centers for Disease Control (CDC) guidelines and promotes physical distancing.
AlphaMED also offers a COVID-19 "Back to School" app that allows schools to screen potential COVID risks before they arrive at school. Learn more.
Get employees screened for COVID-19 and back to work with the AlphaMED Workplace Wellness App.