As companies and schools reopen post-pandemic, debate rages over how to reopen safely. Administrators, employees, and government entities have taken different views on how a combination of social distancing, remote computing, masks, and vaccinations should be used to keep employees, students, and families safe.
Safely Reopening Post-COVID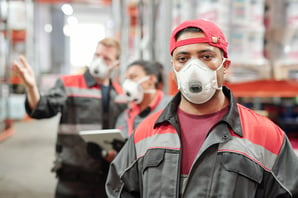 Businesses and educational institutions need to become more resilient. That means possibly rethinking the entire way they function in a post-pandemic world.
So concludes the article, "Back to Work" from Bain and Company. It notes, "The recovery will mean restarting—in some cases, reinventing—operations in an unstable world of shifting conditions."
The article explains: "The leading companies will be defined by their ability to balance resilience, adaptability, and prediction. They'll advance where they can, retreat as soon as they must and adapt as needed. They'll build experience to do that again and again, by office, by work site, by plant, by community, by country. And they'll put in place the right mitigation protocols and support to protect their employees, many of whom are eager to get back to work, but worried about the risk of getting sick."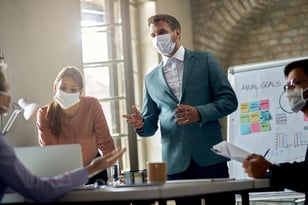 Reopening Advice from Bain & Company
The Bain & Company article offers an overarching method for reopening safely. First, it says, companies should return their workers to sites in waves. Then they need to retreat and retrench as conditions in the community, among suppliers, and at worksites change.
The next step is to adapt to those new conditions.
And then they need to repeat that process, continually.
Bain points to these five factors that must be kept in mind as companies reopen for business:
Proximity: How close are workers to one another?
Nature of contact: What do workers touch, including workplace items, other workers, and customers?
Duration: How long does each interaction take?
Number of different contacts: How many total interactions occur in a day?
Ability to screen and remove: Do you have screening points or protocols to protect workers and customers from contact people who are contagious?
All these reopening considerations and wellness issues may sound daunting. But, the article notes, it's easier than you think. The Bain & Company article concludes, "The good news is that mitigation policies, new infrastructure, and individual behavior changes can dramatically reduce that risk, even in the environments that currently pose the greatest danger of transmission."
The Best Solutions to Safely Reopen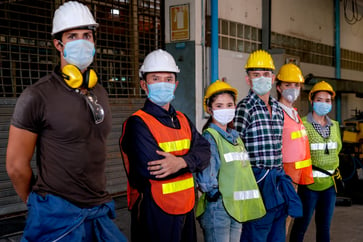 Health experts have plenty of advice for business owners that want to reopen while keeping both employees and customers safe. As we all know, of prime importance includes wearing masks, washing hands frequently, and social distancing.
In addition, personal protective equipment, contact tracing, and face masks can protect against virus spread in the time of the COVID-19 pandemic. But that's only part of safely reopening your business or school.
Another key is the right technology to help screen for potential outbreaks, guide workers through the testing and quarantining process, and offer guidance to make sure they understand when they should and should not return to work. The right technology can help mitigate risk while ensuring you can reopen safely.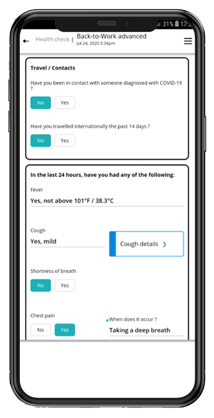 The Role of Wellness Apps
Many consumers are already using wellness apps in their daily life. The use of wellness apps for dieting, exercising, and general health grew in popularity during the pandemic.
As gyms closed, and medical offices and hospitals postponed appointments and people isolating at home took a larger role in their own healthcare. Wellness apps that guided users through logging activity, screening for health concerns, and putting together a wellness plan of action were an excellent stopgap. Other examples include:
personal trainer and fitness apps
weight loss apps
blood pressure apps
sleep cycle and tracking your sleep apps
guided meditation apps
mental health apps
In fact, earlier this year Mashable profiled many of the best wellness apps for 2021.
As companies and schools reopen, wellness apps can now evolve to become part of reopening strategies. Consumers, used to doing wellness activity already on their phones, can easily adopt these apps as a daily practice to check their health, record symptoms, and screen for any potential COVID risks before they get to the office or into school buildings.
One example of a Wellness App that Screens for COVID
AlphaMED, the healthcare solutions arm of Alpha Software, offers excellent wellness apps for both businesses and educational institutions.
AlphaMED COVIDCARE offers COVID-19 screening solutions for employers and schools.

The AlphaMED Workplace Wellness App is a COVID-19 screen app for businesses that provides a simple solution to help screen employees to safely return to the office using their cell phones. The app enables budget-conscious organizations to immediately implement a COVID-19 screening process to meet local reopening guidelines. This app aids large HR departments, local and state governments, small businesses, schools, restaurants, retail outlets and churches that cannot build screening centers or cannot staff temperature checks but still need to find ways to safely reopen. The app adapts to changing Centers for Disease Control (CDC) guidelines and promotes physical distancing.
The AlphaMED Back to School App allows schools to screen potential COVID risks before they arrive at school. Each morning, students or parents logon, and certify that they are healthy and without any potential symptoms of COVID Learn More on Reopening Your Business Safely.
These are just two examples of wellness app that is helping during the pandemic. The important factor is to note that technology, specifically wellness apps, are one more tool companies and schools can use to safely reopen.
Further reading: