Companies are seeing an explosion of wellness apps to help organizations adapt in the midst of the COVID-19 pandemic. We continue to feature apps built by our customers that capture or share critical information in the hands of anyone, anywhere.
Guest Post by Alpha Software customer Jaco Brooks of ENS Software Solutions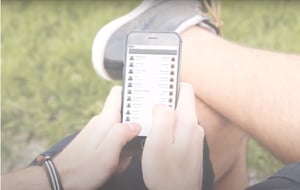 Data collection and analysis have become key in gaining a competitive advantage in the modern sporting psyche. Some critical elements of the advantages that software can bring to the management of sport are often overlooked.
Rugby across the globe remains in lockdown due to the COVID-19 pandemic. This is a sport with a high degree of physical contact and by its very nature is conducive to spreading infection. The playing demographic is by enlarge young and those infected have a high probability of showing minor or no symptoms at all. Rugby matches pose a very high risk to community infection. This has led to the development of a contact tracking module. The module allows the tracking of an identified infected player and chain of infection by selecting the player and the match he participated in.
The key is to act swiftly in preventing transmission. See a demonstration of this module
Administrative management of sports has been getting the short end of the stick when it comes to the allocation of an IT budget in favour of millions of dollars being spent annually by sporting bodies on software tools to help in analysis, training, preparation and recruitment.
Being a keen rugby fan and former player, Jaco Brooks CEO of ENS Software approached one of the biggest rugby federations on the planet, Western Province Rugby Union in South Africa to open up their doors to ENS' software developers to get insight into the administrative challenges faced by a professional sports federation on a daily basis.
Nine years on with continuous feature growth, scrumIT has enabled rugby bodies to not only make front office decisions but to inform business decisions and marketing practices.
scrumIT provides seamless online interactivity between federations, regional associations, clubs, schools, players and officials. scrumIT offer rugby federations with a professional management tool to ensure good governance and best practices as required by the world governing body, World Rugby. The software contains modules which include amongst other
Union and Club/School Management
Player registrations
Talent identification and squad management
Document and video management services
Fixture management
Online real-time scoring with integrated competition logs
Social media integration
Individual player statistics
Next of kin contact information, medical insurance information
Player transfers (Inter-club, inter-regional and international)
Referee management and allocations
Coaching Management
Interclub and federation communication (bulk email)
Player injury recording
Disciplinary process and player sanction management
Comprehensive reporting services
scrumIT runs on a centralised tenanted database controlled by Alpha Anywhere's security module. Each federation, club, school and officials have exclusive visibility of their data. The centralised database offer numerous advantages ranging from cradle to the grave statistics of a rugby player irrespective of movement between schools/clubs or federations. A sophisticated transfer module monitors player movement. The central database is also an element which the directors of ENS Software hope to use to get the attention of World Rugby. Jaco Brooks believes scrumIT is the platform to manage World Rugby and have aggressively started building tools to facilitate federations with the requirements put on them by World Rugby. One such program is the Get into Rugby program better known as the GIR initiative to grow and monitor player participation in rugby across the globe.
As professional sport becomes more business orientated more focus needs to be put into back office administration. Managing all aspects of the 'production line' is becoming critical for the success of federations. Focussing only on your professional structures is like business putting all their resources into marketing and sales without giving attention to the production line. scrumIT creates visibility throughout the player base starting off with the 6 year old touching a rugby ball for the first time to the talented player waiting to be discovered to perform on the international rugby stage.
---

Webinar: See the App and Ask the Developer Questions
Alpha Software will be featuring the developer of the scrumIT Rugby Management System, Jaco Brooks CEO of ENS Software Solutions, demonstrating this app and how he added the COVID-19 tracking features. Join us:
Wednesday, April 22nd at 1pm Eastern Standard Time.
---
A short clip featuring screen grabs from the scrumIT system . Visit the scrumIT YouTube channel for more detailed information on the system and to see the numerous features in action.
The app was recently featured on CNBC Africa: scrumIT Rugby Management System develops COVID-19 Contact Tracking Module
Further reading:
How a Doctor on the front lines of diagnosing and treating COVID-19 built a risk assessment app in days.
Get employees screened for COVID-19 and back to work with the AlphaMED Workplace Wellness App.