Companies that bring mobile app development inside their organizations are reducing costs, building more apps and improving the quality of their enterprise apps.
When building mobile apps to support your core business processes, you have four choices:
develop mobile apps internally
outsource building mobile apps to a third party
use mobile apps developed by an enterprise software developer
use mobile applications distributed in public app stores.
A new survey finds that mobile apps are most successful when developed internally.
Why Internal App Development Works
Many enterprises recognize developing apps in-house provides the best results. Today's businesses increasingly seek to create their own mobile apps over outsourcing development or purchasing pre-built applications.

A survey done by CITO Research found that the companies most satisfied with their mobile efforts are those who develop their core-business apps internally.
Sixty five percent of companies most satisfied with how they use mobile have developed apps in-house, while only 46% of the least satisfied organizations have in-house developed apps. The report adds, "Organizations developing apps internally also have a higher level of investment in mobility and are more mature."
---
65% of companies developing apps in house were "most satisfied" with their app development.
---

The survey also found that internally developed apps are growing faster than all other types, concluding, "Overall, 65% of organizations have internally developed apps in place, compared with 42% in the 2014 survey, exhibiting double-digit growth (18%)."

The Other Findings

Those findings are in keeping with the survey's other conclusions. Jonathan Burg, director of Demand Generation for Mobile Application Management for Apperian, says that companies that develop their own apps see higher levels of app adoption throughout the business. "Organizations that build custom apps have higher levels of adoption," he says.

One area where most companies fall short is in analytics to help determine the success or failure of enterprise mobility programs. Only 52% of companies know which of their apps are being used, and only 42% know how frequently apps are used. Analytics applied to security is in even worse shape: Only 24% of companies can tell when their data or devices are lost.

A key takeaway from the survey: Your company would do well to develop their own apps internally. Given the mobile skills shortage and developer shortage, that can be a significant challenge. But a low-code development tool like Alpha Anywhere makes it easy to develop mobile apps -- both developers and business experts can build mobile apps quickly and efficiently.
With Alpha Anywhere, you will find a complete and secure mobile development and deployment platform. The software lets you build apps for free. Once you build your app, Alpha Cloud enables one-click deployment for your apps, enabling you to keep your business applications safe and secure while speeding them to end-users' mobile devices. Plus the service takes care of load balancing, software updates and more. Plans start for as little as $99/month.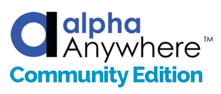 In addition, Alpha Software offers a range of mentoring, training and professional services to help you speed and scale cross-platform mobile app development at your organization.
Start building apps for free with Alpha Anywhere Community Edition.