TL;DR summary: In 2022, no-code/cow-code will help more companies become cloud-first, spur the rise of NoOps (No Operations), and help businesses bring products to market more quickly.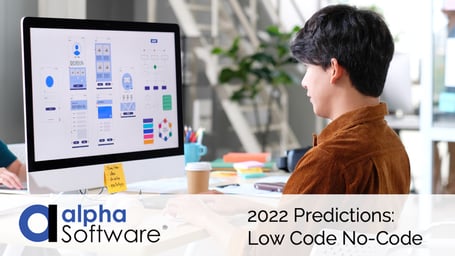 Low-code platforms and no-code app makers have become increasingly popular in companies ranging from small businesses to Fortune 500 ones. 2021 was a big year for the platforms. But how about this year? In what directions will they go?
The AppDeveloper article "Low code trends in 2022" offers some useful guesses. It starts by noting that in the coming year, "The DevOps skills shortage will only continue to grow, accelerating the need for no-code / low code solutions." As evidence, it points out that the engineer shortage will grow to more than 1.2 million by 2026, according to the Bureau of Labor Statistics. And that only understates the problem, the article says, because "Only 39.6% of candidates for DevOps job openings fully meet employers' requirements."
Going Cloud-Only
One big trend, it says, is that the platforms will help many businesses become cloud-only companies. It explains, "Companies will continue to move away from Cloud-First to Cloud-Only. Infrastructure-as-Code low-code and even no-code platforms will make it increasingly simple (and a smart business move) for organizations without cloud-savvy DevOps engineers to migrate to the cloud and unlock new opportunities for innovation and productivity."
Adopting "NoOps"
Beyond that, the article predicts that thanks to the platforms, so-called NoOps will become far more prominent this year. NoOps is shorthand for No Operations, the idea that you can almost completely automate an IT environment, and so reduce or eliminate the need for a dedicated team to manage in-house software operations.
The article puts it this way, "The steep learning curve [for things such as container orchestration frameworks like Kubernetes], paired with the continued IT skills shortage, accelerates the need for simpler, more automated solutions. Eventually, operations workflows will become fully automated with minimal need for manual intervention."

Growing No-Code/Low-Code Use
Finally, the article says, companies will get increasing business benefits from low-code/no-code platforms, which will accelerate the use of the platforms. Thanks to no-code/low-code, it explains, "Bringing products to market is getting easier. New startups are going from $0 to $1B in less time because they don't have to reinvent the wheel… No-code/low code platforms enable non-technical business experts to create software in the domains they know best, without requiring coding knowledge. Experts who were previously locked out of a business idea because they lacked the coding expertise can now get started with minimal coding knowledge."

The Best No-Code/Low-Code Solution for 2022
Alpha Software offers the best no-code/low-code solutions to support these trends in 2022. The company's Alpha TransForm no-code app builder and worry-free Alpha Cloud deployment automate time-consuming IT work. Along with the no-code app builder, the Alpha Anywhere low-code app development platform hep companies speed app development and get products, solutions, and services to market faster.
You can try the company's no-code app builder free for 30 days or build apps for free with its low-code app development platform.