At this moment, the mining industry is swimming in cash, as the price for metals, such as zinc and copper, skyrockets. But mining has traditionally been a boom-or-bust industry as prices leap and then take nosedives. Experienced miners know that bad times are only a price drop away. But mobile apps in mining are set to have a major effect on the future of the industry.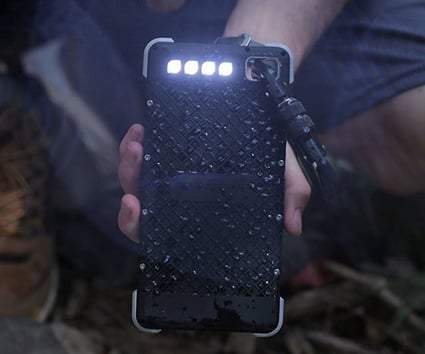 The consulting group McKinsey warns that "worldwide mining operations are as much as 28 percent less productive today than a decade ago," which doesn't bode well for the future profitability of the industry. But according to a McKinsey analysis, there's a way to boost productivity significantly. The firm writes: "Despite the industry's booms and busts, the nature of mining has stayed the same for decades. Achieving a breakthrough on productivity performance demands rethinking how mining works. The potential to achieve such a breakthrough is now coming within the industry's reach through digital and technology innovations that could transform key aspects of mining."
How to do it? McKinsey says mining companies should use the same kind of digital technologies that have transformed so many industries, including IoT, big data analytics, machine learning, artificial intelligence, mobile technology and robotics. It envisions smart sensors embedded throughout mines, to do things such as get "a more accurate and consistent picture of reality at the rock face than ever." Analytics could use all that data for tasks such as "geological modeling, on-the-day scheduling, and predictive maintenance." Mining companies could deploy even more teleremote assisted control equipment and fully autonomous equipment than it does now. And of primary importance is mobile technology to be used in the field, such as mobile apps that can serve as mining control centers.
Doing all this, the firm says, could lead to $370 billion in benefits by 2025. And that could happen with investments in technology, but without mining companies having to invest in new high-priced mining equipment. McKinsey partner Richard Sellschop told Mining.com, that the "value is basically by improving the current processes with the current generation of equipment."
Plenty of mining companies have gotten the message and are starting to use mobile and other technologies, with many other firms ready to follow suit. For example, the world's second biggest iron provider, Rio Tinto, hopes to gain $5 billion of productivity improvements in five years by investing in technology. It has put 40 sensors on every one of its global fleet of 900 trucks, and plans to use data from them to improve the way trucks are deployed. It's already using a smartphone app to track data from its fleet of trucks in the iron-rich Pilbara area in Western Australia.
Much more of this is on the way. Alpha Software with its Alpha Anywhere mobile and web development and deployment platform is already being used by mining companies globally because of its ability to write mining apps that increase safety through mobile inspection and repair apps and its ability to quickly create apps that can display data in meaningful ways to mine operators. It turns out that Alpha is an ideal platform for building these apps because. Its low-code/no code rapid mobile app development (RMAD) approach allows people with no or minimal technical experience to write mobile apps. It also lets you write offline apps that are ideally suited for remote areas with no internet access, or deep in mines that have no internet access. For more details, read why InfoWorld says Alpha Anywhere aces offline apps