TechRepublic
just profiled Alpha Anywhere in
"A look at mobile app development with Alpha Software."
With 1.5 million unique monthly visitors to its website, TechRepublic serves as the ultimate professional resource for CEOs, CIOs, CFOs, CMOs, IT directors, IT managers, IT professionals, and everyone whose job requires making decisions about technology.
In his article, reporter
Scott Matteson
looks at how
Alpha Anywhere
empowers a wide range of developers build
cross-platform mobile and web business apps
. The article includes an extensive Q&A with CTO
Dan Bricklin
, and a comprehensive review of the latest capabilities in the product. Bricklin explains which features are critical in new business apps and why:
"In order to be successful, enterprise mobile apps must meet critical user requirements, including intuitive use, the ability to leverage mobile hardware device features, such as touch interaction, geo-location, video, audio, and camera, and the ability to work with large amounts of read/write data – even when working offline," said Dan Bricklin, CTO of Alpha Software. "These functions are no longer optional in enterprise mobility – they are critical requirements for mobile app development and success. Alpha Anywhere V4 was developed with the horsepower to quickly meet these requirements with little to no coding."
Matteson highlights the ease with which experienced and citizen developers can build mobile optimized forms and complex business apps with features like digital ink and image annotation, audio and video capture, and seamless access to device hardware for leveraging cameras, scanners and GPS in business apps. In the article, Matteson praises Alpha's
"industry-leading offline capabilities."
He also points to Alpha Software's
Pumpjack Pro equipment inspection sample app
.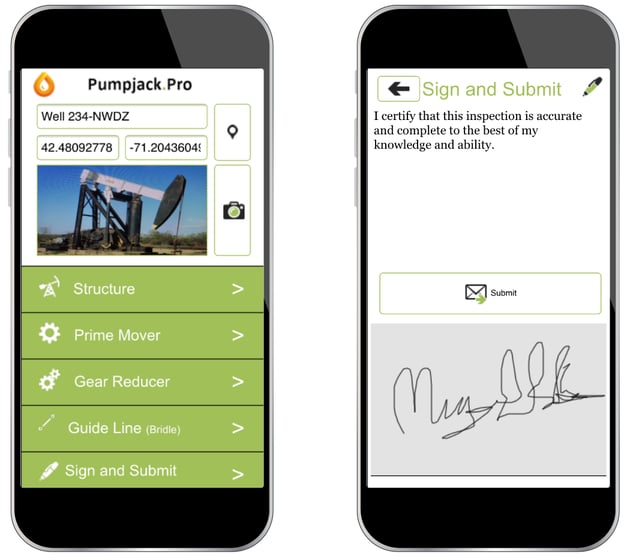 Alpha Software's Pumpjack Pro sample inspection app.
To read the full TechRepublic article,
click here
.
To view the PumpJack Pro sample app in detail,
click here
.
To read further on how Alpha Anywhere helps build cross-platform mobile and web business apps with critical business features,
click here
. For the latest features in Alpha Anywhere V4,
click here
.