What are the most important enterprise

mobile application features

that end users are crying out for?

We've got the answer based on data from nearly 2,000 developers on lessons they've learned building recent enterprise mobile apps.

The information is based on a Bock & Company survey, commissioned by Alpha Software, to find out what developers think about mobile app development. The survey entitled, "Enterprise Developers Rank Critical Requirements for Success in the Coming Mobile App Explosion,"

will help any developer looking to build

enterprise mobile applications

.

This is the third and final blog in a series about the survey.

Our first blog article focused on what critical features developers are building into their apps. This second blog article examines the other key aspect of mobile apps: what end-users believe are the most important features and capabilities of an enterprise app.

What Enterprise Users Are Looking for in Great Mobile Apps

Developers are ideally suited for finding out what people want in the perfect enterprise mobile app, because as the survey points out, "They learn first-hand what elements are critical to success for the line-of-business, providing unique insights into features and functions that mobilize digital experiences."

The survey asked developers to identify the most important end user requirements for mobile apps, and to then rank them in order of importance. Here are the ten cited as most important.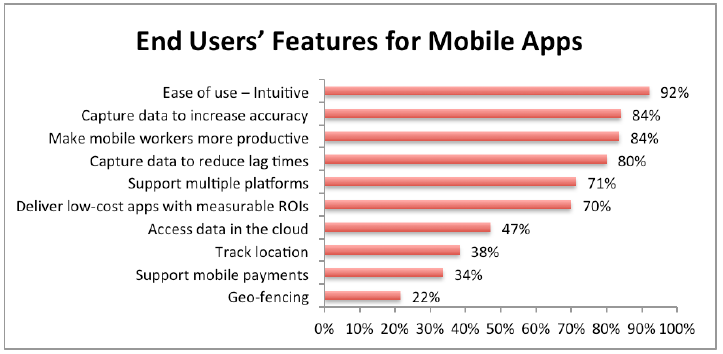 The most important overall was that the application be intuitive and easy to use, cited by 92% of developers.

Next in importance were a cluster of features that focus on productivity and data capture. Eighty-four percent of developers said that the app must "capture data to increase accuracy." An equal number said that the application should "make mobile workers more productive." And 80% rated the ability to "capture data to reduce lag times" as being important to their customers.

Next in importance was that a mobile application "support multiple platforms," (71% of respondents). A nearly equal number, 70%, said that the ability to "deliver low-cost apps with measureable ROIs" is important to end-users.

The final four capabilities rated as important were all advanced technical features:


47% said the app should access data in the cloud
38% said the app should track location
34% said the app should support mobile payments
22% said geofencing is important
View the full results of the survey.

Read the first article in this series about the commissioned Bock & Company developer survey: "Survey Results: Developers' Must-Have Features in Enterprise Mobile Applications."