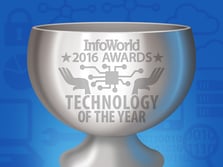 The team at Alpha Software woke up today to an outpouring of congrats and kudos from customers, partners and industry influencers when InfoWorld announced that Alpha Anywhere was a winner of the "InfoWorld 2016 Technology of the Year." The winners, carefully selected by InfoWorld's reviewers, "are the platforms, databases, developer tools, applications, and cloud services that are reshaping IT and redefining the modern business." In a year when enterprises are scrambling to mobilize their organizations, Alpha Software is the only rapid mobile application development technology to make the list.

In the article, InfoWorld staff and reporter Martin Heller tout Alpha Anywhere's speed of development:
"Alpha Anywhere is a database-oriented, rapid app development tool that shines at creating Web and hybrid mobile apps that work offline. It allows developers to build good apps quickly, with surprisingly good performance and native-like look and feel."

The article goes on to give Alpha Anywhere kudos for its database and data integration capabilities, robust offline capability and media and image handling. The publication also recognizes the massive impact that Alpha Anywhere's mobile optimized forms stand to have on the market:

"Mobile Optimized Forms are currently in beta test, and planned for 1Q16 release. Alpha is building this capability around a FormView, with specialized controls for things like ink annotations and audio capture (with pausing). The forms work now, but the builders are not yet up to Alpha's usual bar. When the feature is done, much of the work in building a mobile forms app will be done with a Genie, Alpha's equivalent to Microsoft's Wizards."

We've worked hard to build a development and deployment environment that takes into account where enterprises need mobile apps to take them today and in the future. We thank our customers again for all their support, feedback and ideas, which has enabled Alpha Anywhere to set the bar for rapid mobile app development. The industry has noticed!

Don't just take our word for it:

See why enterprise developers are turning to Alpha Anywhere to satisfy developer, business and end-user requirements .

Read the full InfoWorld 2016 Technology Award Announcement about Alpha Anywhere.