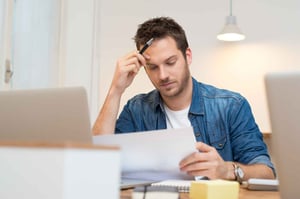 When you're looking for new software for your business, you're faced with a very basic decision: Should you buy packaged, off-the-shelf software, or instead go with custom-built application? Packaged software is fast and often cheap…but is it good? And even if it is good, is it right for you — or should you instead go with custom-built apps?
In general, experts say, off-the-shelf software can work in straightforward, limited circumstances. But for most businesses, custom-built applications are superior. Here's what the experts have to say, based on enterprise experience and data.
Benefits of Custom-Built Business Apps
Ryan Faas, a contributing writer for Computerworld, sums up the benefits of custom-built applications: "They can meet specific enterprise needs, fit existing work and data flows, and boost both efficiency and productivity. And as much as they allow companies to streamline operations and provide new data about operations – directly and indirectly affecting the bottom line – they can also bolster employee satisfaction and confidence and enhance a company's image internally and with customers and the general public."
James Tolentino in an article for The Next Web, "5 compelling reasons you should build a custom business app," expands on Faas's ideas. He notes that "Ready made solutions don't fit all of your business needs," and adds, "Every business process is unique, thus, the traditional software model of one-size-fits-all doesn't work anymore."
He warns that although off-the-shelf software may at first appear to be less expensive than a custom solution, an off-the-shelf application can become a money sink because you may end up needing to build an entire software infrastructure to support it.
Even more problematic, he writes, is how difficult it is to integrate off-the-shelf applications with other platforms such as databases and backend systems. Custom-built applications, on the other hand, typically include easy ways to integrate with other systems — and in many cases, come with pre-built integrations.
Custom applications, he also says, scale more effectively than off-the-shelf software. He points out you can start small and then scale easily as your business grows. And he writes, with custom applications, it's far easier to build the kinds of reporting tools and data visualizations your company needs.
The article, 5 Benefits Of Custom Software Solutions in Innovation Enterprise Channels adds one more benefit of using custom software —superior maintenance and support. He writes, "When dealing with off-the-shelf software solutions, your business is at the mercy of the software developer you are buying from. So in the event that they go bankrupt or decide they no longer maintain the software, your business will be in the tough position of suddenly needing to change to software that is fully supported and maintained. This sudden expense can be damaging for your business. If you take the custom route, your software is maintained for as long as you require."
The Best Tool for Writing Custom Business Apps
Making Customer vs. Packaged Decisions Around Business Apps?
For companies wrestling with the decision when it comes to how to build business apps, Alpha Software is a great customized alternative. Alpha TransForm helps users craft online or offline mobile apps in minutes that utilize the latest mobile features (camera, GPS, etc.) for fast, accurate data capture. Power users can then add additional functionality, such as data lookups and integration with little work. If more development power is needed, development teams can then utilize Alpha Anywhere, which has the unique ability to further customize any TransForm app or create highly customized field apps that can easily access and integrate with any database or web service and can exploit built-in role-based security or robust offline functionality. Learn more about Alpha Software and take a 30-day free trial.