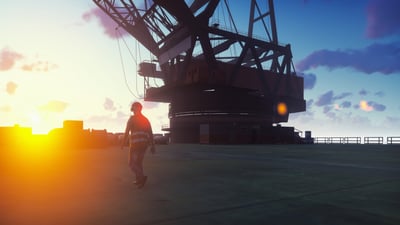 The digital oilfield has been discussed a great deal in the gas and oil industry for years, but it's primarily been talk rather than action. The article "Drilling for data: Digitizing upstream oil and gas," written by Giorgio Biscardini, Eirik Rasmussen, Dr. Reinhard Geissbauer and Adrian Del Maestro in the PwC network notes, "The upstream oil and gas sector is well behind other industries when it comes to being digitally enabled."
But that's changing, and a confluence of new technologies and consistently low oil prices is bringing it closer to reality. In this blog post, I'll detail what a digital oilfield is, and outline the five major technologies that make it possible.
Perhaps the best description of digital oilfields comes from the petroleum geoscience magazine GEOExPro in the article, "What Is a Digital Oilfield?" It says, "Many people think of the digital oil field as a fancy technological hub, with hundreds of flashing screens and a couple of experts earnestly comparing notes in a hushed environment. But it is better described not as a physical presence, but as a concept, encompassing not just data being streamed from far distant wells, but the processing, integration and analysis of that data in a number of physical environments."
Digital oilfields, the article concludes, offer tremendous benefits. It points out that Shell estimates that the value of its "smart fields" project has been $5 billion over five years. And it says that the research and consulting company IHS Cera estimates that digital oilfields could reduce operating costs by 25 percent, increase production rates by up to eight percent, reduce project costs by between two and four percent, and improve resource recover by as much as six percent — all in the first year of deployment.
Five Technologies That Enable Digital Oilfields
Vitally important to digital oilfields is the ability to gather real-time data and allow globally dispersed teams to use that information instantly and collaborate with one another. Doing that requires four key technologies, notes Shiva Rajagopalan President and CEO of Seven Lakes Technologies, an analytics and technology solutions firm specializing in the oil gas industry. He writes in "The 4 Technologies Making 'Digital Oilfields' A Reality" that the first tool is cloud computing, because it offers the storage capabilities and processing power that is almost impossible or too expensive to get via on-premise data centers. The cloud, he says, offers field intelligence and production planning "without the need for large capital expenditure while providing assurances over the ownership of their data and security."
The next important technology, he writes, is mobile because it gives "information to the people who need it when they need it." He adds, "'Smart' mobility apps will help them handle the complexities of managing both unplanned and planned events, such as environmental compliance inspections, that also influence who goes where and in what order." Also useful are mobile forms used for data collection.
The third technology is big data analytics. He notes, "These powerful number-crunching engines feed on continuous streams of data from all areas, then provide trustworthy, actionable intelligence to support better decision-making across all areas of the oil and gas lifecycle."
Finally, he writes, artificial intelligence is important because it "turbo-charges" both data analytics and automating the actions suggested by analytics. He concludes, "AI self-learns using the data available and focuses on functions that are mission critical to support decisions and prioritize tasks. Applied to traditionally labor-intensive processes, such as run tickets or routing, companies automate processes for greater efficiency and better prioritize high-value problems to maximize production."
Although Rajagopalan doesn't cover IoT in his article, that's important as well, because it allows remote sensors to automatically gather the tremendous amount of data stored in the cloud, and then mined and used by big data analytics and AI.
---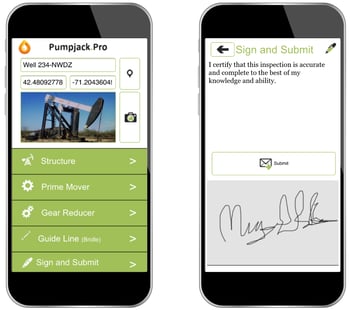 What's the Best Digital Platform for Digital Oil Fields?
To build and make use of digital oil fields, oil and gas companies must have the best digital platform. Alpha TransForm is ideally suited for the task. It has the unique ability to rapidly create mobile-optimized forms and field apps that can easily access and integrate with existing databases and web services and can exploit built-in role-based security. It builds offline apps, vital for the oil and gas industry, and has frequently been used to write mobile apps for field workers.
Learn how Alpha Software is helping oil and gas customers or try Alpha TransForm yourself:
---
Additional reading related to the digital oilfield of the future:
---


Powerful Data Capture Apps for Inspectors, Exploration or Production Teams
Safety Inspections • Pipeline Inspections • Gemba Walks • Platform Audits • Certifications and Training •
Pumpjack Inspections • Work Orders • Time and Attendance • ISO Certifications •
Dispatch • Licensing • and more,,,