The oil and gas industry has been struggling since 2015, thanks to low prices. Making matters worse is that some oil and gas fields across the world are becoming depleted. But it's not all bad news for the industry. Mobile solutions can help rejuvenate the industry, notes a new report by Orbis Research, "Global Oil & Gas Mobility Market Size."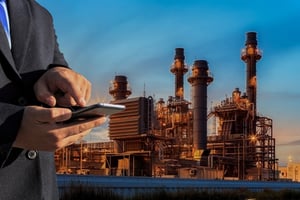 The report finds, "Developing an enterprise mobility strategy can procure significant value in renovating the oil and gas business. It can reduce the time spent on mundane tasks and upsurge the overall productivity in the industry."
The use of mobile apps and solutions in oil and gas companies, the report goes on to say, "results in significant savings and uninterrupted growth and development." Mobile apps, it reports, increase efficiency and logistics, improve safety, and also can visualize data, helping oil and gas companies do things such as improve their ability to find sources of gas and oil, and extract oil and gas more effectively.
The report is backed up by a Gartner report, "Top 10 Trends That Affect Oil and Gas CIOs in 2018," which says that the industry needs to embrace digital transformation and mobile apps in order to thrive. It concludes, "Digital innovation will intensify, driven by oil and gas company business strategies that continue to prioritize growth through efficiency, even as recovery continues." It adds, "Scaling digitalization will be a key success factor for oil and gas CIOs."
What is the Best Tool to Aid Oil and Gas Industry Digital Transformation?
Talking about mobile apps and digital transformation is one thing. But actually developing the apps to spur innovation is another entirely. It can be tough to choose the best tools for what needs to be done.
Alpha TransForm is ideally suited for spurring the digital transformation of the oil and gas industry. It has the unique ability to rapidly create mobile-optimized forms and field apps that can easily access and integrate with existing databases and web services, and can exploit built-in role-based security. It builds offline apps, vital for the oil and gas industry, and has frequently been used to write mobile apps for field workers.
Additional Reading:
Read about why oil and gas CIOs need to embrace digital transformation.
Find out five reasons why mobile apps are the oil and gas industry's secret weapon.
Learn how Alpha Software is helping oil and gas customers or try Alpha TransForm yourself.
View and download Alpha Software's pumpjack inspection app from our Alpha Transform Sample Apps Page.
Read a case study on how one developer for a major oil drilling company built an offline-capable maintenance app for offshore oil platforms.
---

Powerful Data Capture Apps for Inspectors, Exploration or Production Teams
Safety Inspections • Pipeline Inspections • Gemba Walks • Platform Audits • Certifications and Training •
Pumpjack Inspections • Work Orders • Time and Attendance • ISO Certifications •
Dispatch • Licensing • and more,,,