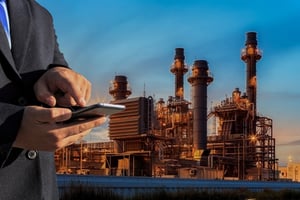 The oil and gas industry is notoriously bust or boom. Prices have been low through 2016 and 2017, but they've been inching their way up this year. Still, the price recovery has been a fragile, iffy thing, and the industry can't count on it for its long-term health.
The solution, according to a Gartner report, "Top 10 Trends That Affect Oil and Gas CIOs in 2018," is that the industry needs to embrace digital transformation. The report notes that "Digital innovation will intensify, driven by oil and gas company business strategies that continue to prioritize growth through efficiency, even as recovery continues." It adds, "Scaling digitalization will be a key success factor for oil and gas CIOs, who nevertheless face major challenges in budget, IT operating model and culture."
A primary roadblock to digital transformation is that the industry has long resisted change, the report says, but adds that those days need to pass. It warns, "Traditional high-pressure, crisis aversion approaches to transformation — prevalent in the oil and gas industry — can become counterproductive in a digital business, where urgency levels and future goals may be uncertain."
The report says that digitization of the industry has been accelerating, and that as a result, "New ways of rapid innovation at scale will develop, involving collaboration by external customers, external vendors and multiple internal business units."
That's the good news. The bad news is that the industry will struggle to adjust to this new way of working. The report says, "Traditional oil and gas IT operating models are challenged by the growth of information and digital technology capabilities throughout the enterprise. CIOs will need to redesign the IT operating model for agility, speed and innovation, with reach across all business functions."
Much of the report covers the most important trends that will affect the industry this year, ranging from the way in which market uncertainty will drive digitalization to how automation and robotics will boost end-to-end efficiency, and ways in which enhanced remote operations and collaboration will optimize field operations. But the bottom line transcends those trends. The report concludes that CIOs need to be aggressive in pushing digital transformation: "CIOs must move away from the traditional approaches to change leadership. Clear-sighted recognition of company-specific barriers and the adoption of tools, including strong change management practices that address human responses to the uncertainty of digital transformation, will be key in making continued progress."
What is the Best Tool to Aid Oil and Gas Industry Digital Transformation?
Alpha TransForm is ideally suited for spurring the digital transformation of the oil and gas industry. It has the unique ability to rapidly create mobile-optimized forms and field apps that can easily access and integrate with existing databases and web services, and can exploit built-in role-based security. It builds offline apps, vital for the oil and gas industry, and has frequently been used to write mobile apps for field workers.
Additional Reading:
Find out five reasons why mobile apps are the oil and gas industry's secret weapon.
Learn how Alpha Software is helping oil and gas customers or try Alpha TransForm yourself.
View and download Alpha Software's pumpjack inspection app and watch a related webinar on how to customize it for your organization.
Read a case study on how one developer for a major oil drilling company built an offline-capable maintenance app for offshore oil platforms.
---

Powerful Data Capture Apps for Inspectors, Exploration or Production Teams
Safety Inspections • Pipeline Inspections • Gemba Walks • Platform Audits • Certifications and Training •
Pumpjack Inspections • Work Orders • Time and Attendance • ISO Certifications •
Dispatch • Licensing • and more,,,