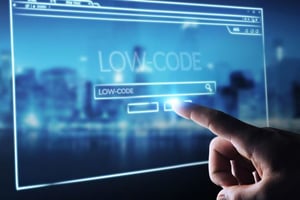 Low-code and no-code development tools are taking center stage in many enterprises because of the growing need for digital transformation, and the difficulties of finding trained, professional developers who can help. Once niche products, low-code tools have gone mainstream, and are becoming the primary way business applications are written. So concludes the recently published Gartner report, "Low-Code Development Technologies Evaluation Guide." In this blog post, I'll cover the report's highlights, including how to get the most out of these new innovative development solutions.
The Growing Popularity of Low-Code Development
Gartner reports that the demand for the tools is driven by the rise of digital business and the demand "for software creation to automate new and existing processes, in new contexts, and often in rapidly changing situations." That demand, the report says, "puts enormous pressure on IT leaders to dramatically increase application delivery speed and time to value. Vendors are responding with low-code solutions that aim to increase productivity by reducing or avoiding the need for specialist 'code' by scarce enterprise IT developers."
These new types of development tools will become the most popular form of application development, the report concludes. Gartner says that "By 2024, low-code application development will be responsible for more than 65% of application development activity."
They won't, however, be used in all aspects of an enterprise's app building activities. The report projects that "Through 2024, at least 75% of low-code application development efforts will be limited to small- to moderate-scale projects supporting non-mission-critical workloads."
The report also says that low-code tools won't be one-size fits all, and that app developers will generally use multiple tools, depending on the tasks they want to do. It says, "By 2024, 75% of large enterprises will be using at least four low-code development tools for both IT application development and citizen development initiatives."
How to Get the Most Out of Low-Code Development Tools
The report has solid advice for enterprises looking to get the most out of these innovative solutions. First, it says, enterprises should carefully identify use cases for low-code development. The report recommends, "Choose low code for the use cases that require faster time to market with reduced developer skill sets."
Once the use cases are identified, it's time to choose the best one suited for the job. The report recommends, "Supply citizen developers with low-code development tools that offer built-in guardrails, and ensure both IT and business stakeholders are granted the necessary visibility and oversight."
Gartner also warns that enterprises should not try to force the tools to be used for jobs for which they're not suited. So it says, "Experiment with low-code development tools that are part of existing PaaS and SaaS products, but don't try to force their consumption beyond their scope of capabilities."
Finally, Gartner recommends that enterprises carefully match the tools with a company's business needs. Authors suggest, "Deploy low-code applications for external-facing apps on an opportunistic basis for business agility, but ensure the tools' licensing models align with ROI and business value expectations."
Choosing the Right Low-Code Tool for Your Business
Alpha Anywhere is designed for fast enterprise app development. They can work independently or together as a single platform, and are ideally suited for helping enterprises scale digital transformations. Alpha Anywhere is one of the most highly rated development platforms; in fact, InfoWorld named it a top mobile app development leader. Learn more about Alpha Anywhere and to take a free trial.
Learn how to select the right development platform for your business with our Guide to Low-Code Development.