It can be tough to get started building your first app. If you're relatively new to app development, you likely don't even know where to begin. Here is some help.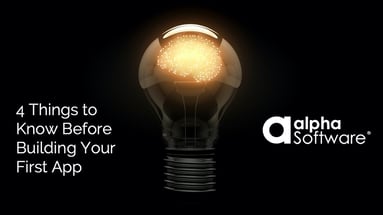 Building your first app is a big step, but if you get some help with the most basic of basic information, you'll go a long way towards getting to the starting point. And as long as you have a solid plan in place, it's not that far from there to the finish line.
The article, "How Much Does it Cost to Build an App in 2020? [A Complete Guide]" is a great place to begin. It lays out, in simple terms, the most important four things you need to do to get started.
Step 1: Develop a Business Model
Before doing anything else, the article says, make sure your app will offer a real payoff. You don't want to devote a great deal of time and effort to something that doesn't make financial sense.
So you should first develop a business model. What's a business model? The article puts it succinctly: "Simply put, it is an assortment of factors that include determining the target audience and their pain points, offering better solutions, making it a direct source of revenue through sales, etc. and most importantly knowing that your customer is the most important factor in your business model hence prioritizing their demands."
Step 2: Decide What Kind of App You Should Build
Next, decide what kind of app you should build? You have three choices:
Web app.
This isn't technically app, but instead a mobile version of a web site. It uses responsive design to make sure it works equally well on a device with any screen size. It's the least complex option and the lest-expensive to build. But the article notes that one survey claims that "85% of smartphone users prefer apps over mobile websites."

Native app.
This is an app built using the specific language for the operating system of the phone you'll be writing an app for. So you would use Swift or Objective C for iOS and Java or Kotlin for Android. Native apps tend to have the best performance, but are also the most expensive and difficult to build.

Hybrid/Cross-Platform App.
This uses a combination of web and native technologies. It's simpler and less expensive to do this than write a native app.
Step 3: Determine which Platform to Write For
Do you want to write for iOS, Android, or both? Writing for both gives you a larger potential audience, but could cost more and takes more time if you don't use code that can form the basis of both apps. Android has a larger worldwide market share, but the payoff isn't always as great as iOS.
Step 4: Finalize the App's Functionality
Are you looking to build a fully featured app with lots of bells and whistles, or something as simple as a checklist or form? Nail this down before starting to code. That way, you'll best be able to estimate the total time it will take to build the app and the total cost. The article has some very good guidelines for estimating how long each feature will take to code, or how much it would cost to have it written for you.
Step 5: Use Free App Development Software
After you do all that, you can get to work. Check out Alpha Software for doing the development work yourself. The company offers award-winning, low-code app development software that developers can use for free. This mobile app development software performs like the best-in-class software and eliminates costs during the development and testing phases. There's also no limit on the number of apps you can build or the complexity of the app you build.
Developers can build mobile apps for free with Alpha Anywhere Community Edition. You only pay when you deploy the finished apps - for as little as $99/month.
Further reading:
Want to try mobile app development yourself? Read how to build your first mobile app.