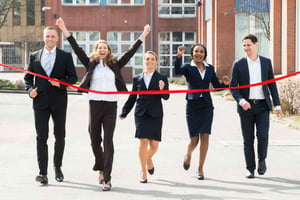 There's been plenty written about how to accelerate your company's digital transformation. But one of the simplest and best ways is to identify your business's top digital achievers and then give them the help they need to lead the way. A blog post in Forbes, "5 Ways To Accelerate Digital Transformation By Tapping 'Digital Achievers'" offers great tips for how to do it.
The post offers helpful advice in how to identify your company's top digital achievers. It says, "What distinguishes digital achievers is not simply technical acumen - it is the ability to grasp the fundamentals of working and competing in a world revolutionized by technology. Digital achievers are inspired and motivated to drive change, and they thrive in environments of change…They embrace new ways of working, in new roles…They can also solve problems from the customer's perspective, not just their own."
Once you identify them, the post says, you should organize them into agile teams devoted to delivering products. Make sure to mix different types of digital achievers into the teams, with some from the business side and others from the technical side.
Also, the post recommends, you should "give them data to solve problems," and your business will reap significant benefits. The post notes, "Digital achievers have a natural curiosity that compels them to ask questions, challenge the status quo, experiment, and solve problems. They just need the data to feed their intrigue, explore opportunities, and create and test ideas."
The third way to help them, according to the post, is to "redefine their mission." Instead of forcing them to tackle giant tasks, "Allow digital achievers to move quickly by breaking big concepts into smaller chunks of work. Encourage them to create rapidly rather than striving for something that is 'perfect' and fully vetted."
You should also "allow them to experiment and fail fast." The post notes, "Teams that are scared to fail tend to move slowly, and their products are often too late to make a difference. Digital achievers are motivated by autonomy and experimentation, so give them an environment that permits and encourages these characteristics."
Finally, "equip them with technology and tools that accelerate their work." That means using the cloud, micro-services, and anything else that will help.
Equipping Digital Achievers with the Best Tool
Even your best performer can't win a drag race on a tricycle. It's critical that you give your digital achievers the right tool for the job. One that makes getting started easy easier, increases their productivity and doesn't hit limits as their ideas and needs grow.
Alpha TransForm technology is the best tool for helping digital achievers speed up enterprise digital transformation. It lets them quickly design, prototype and build apps practically at the speed of thought. It improves collaboration, aligns IT with the business and makes companies more responsive by speeding up app development. And it offers tools that let existing staff build business apps much more quickly and enable savvy business domain experts and IT departments to work together to digitize business processes and deliver tangible business impact. It also simultaneously enables IT to control data integration with systems of record and data security compliance. Learn more.

Learn more about Alpha TransForm, see it in action, and take a 30-day free trial.