No wonder the mobile app development business is rising day by day!
With the mobile phones usage being on a surge, there are big opportunities for a mobile app to be the most disruptive business platform.
And why not? Digitization is the need of the hour and by building a mobile app for your business, you are staying up with the trends. Mobile apps are easy to deal with and it provides the businessmen with the ease to manage their businesses.
Image source: www.nexgweb.com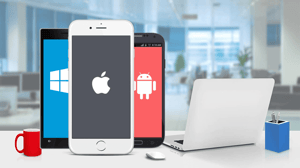 This is the very reason why there is a rise in the search engine result for the questions like, "How to build a mobile app?", "What is the cost of building a mobile app?", "How to outsource mobile app development projects?" and so on.
If you are an aspiring businessman and want to be a part of this mobile business space, but don't know where to start from, we are here to help you make wise decisions by presenting unique and simple ideas for your mobile app business to start small and go big.
So you have decided to venture out using mobile app but aren't sure how to go about it. Fret not! We are here to help you with a step by step process to convert your business idea into a mobile app:

Write Down your Ideas
No matter how silly your idea feels, keep a note of all your business ideas and refer them on a daily basis. Look out for strong points, weak points and try to improve the concepts.
Your mobile app idea should solve a purpose. If it does, then it is your cue to take the app idea from here on and start building it further.

Carry Out a Market Analysis
Once you are sure about your mobile app idea, the next step is to carry out a thorough market research. Is your idea innovative enough? or is it a clone mobile app idea?
If your business idea is an innovative concept, make sure that you are ready to experiment with the market. While when you are working on a clone business idea, it is recommended that you seek advice from a reputed app development company.

Create a User Persona
Who are you selling your product/ service to? Create an ideal user persona. Make a listing of his/her preferences and liking. Create a strategy to be as relatable to them as possible.
Ultimately, you will have to sell your service/ product to your user persona. Target demography where you believe you can find your ideal user persona.
Don't make any hasty decisions while launching your mobile app. Start small and then target other demographics.

Create a list of the Features
Once you have your demography and user persona in place, you need to look out for features to build your mobile app.
Try and make your features as user-friendly as possible. This way you will be able to monetize your mobile app with features.
It is better to start with the most viable features first and then plan to for advanced features.

Identify your Monetization Strategy
With so many monetization plans for the mobile app, identify the plan that could work for your mobile application.
An ideal monetization strategy should be to charge your users for the service they are availing from your app.
Other than this, you can also go for another monetization plan wherein for an additional set of features, you can charge your users on a subscription basis.

Create Prototypes
Once you have listed down all the required features for your mobile application, start building your wireframes.
Create a mockup and jot down your design ideas. Make a list of your mobile app development requirements and know how you will want to drive your users into your mobile app vicinity.

Look for Mobile App Development Companies
This is the most crucial step. While there are many mobile app development companies in the market, it is a matter of expertise to choose one wisely.
Ask for advice from authentic sources and take a few such companies into consideration. Strike a conversation with them. However, do not share all your requirements at first.
Test for their capabilities and potential and then decide to build your mobile app with them. However, be clear about the timelines and milestones. This way you need not wait for your business launch.

Estimate the Cost of Building an App
Another crucial step is to know the cost of building a mobile application. While some companies may have a reduced cost with less expertise, some companies may have the cost on a higher side depending on their experience and resources.
It ultimately depends on who understands your requirements clearly and is able to fulfil the same in the said time duration.

Key Takeaway
While developing a mobile app, it is your business to weigh all the possible pros and cons. However, the important part is the conceptualization of your idea and its connection with your buyers.
The important business lesson is to build a mobile app by keeping your end users in mind. This way you will be able to provide quality service to your users.
What remains to say is, stay consistent with your business idea and start getting one built now!
---
Looking for a Mobile App Development Platform?

Alpha TransForm helps enterprises speed up mobile app development and digital transformation, allowing IT and business users to quickly design, prototype and build apps practically at the speed of thought.

Learn more about Alpha TransForm, see it in action, and take a 30-day free trial.