Are Mobile Development Costs Really Worth It? How to Make the Decision to Outsource Development of a Mobile App or Build it Yourself
I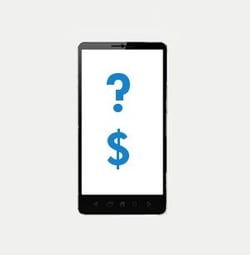 t's a conundrum enterprises face constantly: Should they outsource the development of a mobile app or build it themselves? It may feel like an impossible decision to make. If you're looking for advice to help, a great place to turn is the SearchMobileComputing article by Robert Sheldon, "Are mobile app development costs worth it?"
What Costs Should You Include in Determining In-House Mobile App Dev Costs?
To start, first figure out how much it will cost to develop the mobile app in-house. Sheldon says you should first decide which mobile OSes you'll support, and whether the app will be a native, hybrid or a web app.
Next, determine the features and technologies the app needs to support, including geolocation, social integration, real-time collaboration, offline access and data syncing. Consider whether the app will have to integrate with back-end systems or third-party services. Make sure to factor in whether there are APIs to help do that. And figure out how you plan to test it, deploy it, and support and maintain it. Include whether you plan to update it, and if so, how frequently. Consider the app's entire lifecycle.
Even that isn't enough, though. You should also factor in the kind of DevOps resources you'll need, as well as any licensing fees, hosting services, money you'll have to pay for the app's design, as well as whether you'll need to train employees to build it and how much that will cost you. Again, consider the app's entire lifecycle when determining all this.
How Much Will a Third Party Charge to Develop Your Mobile App?
Once you do all that, he says, you'll have a good sense of how much it will cost to develop the app in-house. The next step is to contact a development company that does mobile app development and ask what they'll charge to build it. Make sure you outline clearly what you want done, including all the information you've gathered for calculating your in-house costs.
Keep in mind that outsourcing doesn't come cheap. Sheldon says that building a solid app frequently costs between $100,000 and $500,000. Pay much less, he says, and "you'll likely end up with a fairly weak app."
Finally, compare the cost of developing a mobile app in-house versus outsourcing. You'll have a solid sense of which makes better financial sense.
How Can You Cut Your In-House Mobile App Development Costs?
If you cut your in-house mobile app development costs, you'll be able to do more or all of mobile app development yourself, while saving money and getting more control over the finished app. A great way to do that is with Alpha Anywhere. It's a low-code/no-code rapid mobile application development (RMAD) platform that makes it easy for anyone to build mobile apps, even without programming experience. It also offers powerful tools for developers. New Alpha TransForm technology enables savvy business domain experts and IT departments to work together to quickly and effectively digitize business processes and deliver tangible business impact. It lets line-of-business experts build mobile apps using their insight regarding workflow needs and efficiencies, while simultaneously enabling IT to control data integration with systems of record, and data security compliance.
Learn more about Alpha TransForm.
Learn more about the app development process and its cost.
Read survey data on the real costs of building mobile apps.
Is Microsoft Powers a viable app development tool? Understand PowerApps pricing and why you should build apps for free with Alpha Anywhere.