DevOps practices, pioneered ten years ago, have greatly helped streamline and improve the software development process. But for a variety of reasons it hasn't yet been well-integrated into the mobile app development cycle. Help is on the way, though. The Gartner report, "Optimize Your DevOps Toolchain to Scale and Accelerate Mobile App Development" offers excellent advice for those who want to use DevOps for mobile app development.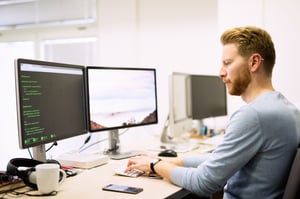 The report says that mobile app development poses a variety of challenges for DevOps. A key one is "Continued fragmentation and rapid proliferation of mobile devices, management tools and operating systems impact the ability of DevOps teams to keep pace with mobile app releases." In addition, "mobile app releases and updates must contend with app store approvals, users having to download updates and inflexible release rollbacks." And the third major challenge is that "Complex, composite mobile apps are driving changes to back-end enterprise systems that require increased collaboration between the front-end mobile development and broader DevOps teams." In addition to all that, DevOps requires "a fully automated testing scenario," but that has been problematic for mobile app development because of the sheer number of different devices that need to be tested on multiple operating systems.
How Can Enterprises Integrate DevOps into Mobile App Development?
So what can companies do to better integrate DevOps into their mobile development efforts? The report recommends that because different tools are often used to build different mobile apps, IT leaders must "recognize and embrace the fact that several front-end development tools will be needed to address the wide variety of app use cases across the enterprise." And it says businesses should also use tools that "enable fully automated regression testing as well as visual validation of mobile app code, and ensure that all server-side components have been fully tested."
The report has three additional important recommendations as well:
Enable continuous delivery by employing mobile test automation and dynamic app updating capabilities.
Improve continuous integration by leveraging common build and release services across a heterogeneous front-end development environment.
Institute continuous monitoring and feedback by implementing analytics instrumentation within apps.
And it also recommends that enterprises find the right tools for planning apps, notably ones that "support the mobile app product roadmap and portfolio management, and app prototyping and design."
Alpha Anywhere development and its state-of-the art Alpha Cloud deployment environment were crafted with these DevOps challenges in mind.
Alpha Anywhere is ideal for that kind of mobile app prototyping and design, because it's a rapid mobile application development (RMAD) tool that uses a low-code/no-code approach to mobile app development. That makes it simple to prototype and design apps and then quickly iterate them. In addition, its new no-code TransForm technology enables savvy business domain experts and IT departments to work together to quickly and effectively digitize business processes and deliver tangible business impact. It lets line-of-business experts build mobile apps using their insight regarding workflow needs and efficiencies, while simultaneously enabling IT to control data integration with systems of record, and data security compliance. Finally, Alpha Cloud eases app management, hosting, rollbacks and more for DevOps teams:
| | |
| --- | --- |
| Direct publishing to the Cloud from within Alpha Anywhere | |
| Create multiple sites and test environments | |
| Publish to any Alpha Anywhere version | |
| Automatic scaling to handle increased demand | |
| Integrated rollback and deployment scheduling | Fine-grained control of resource management |
| | Administrative controls for your Dev Team |
Learn more about Alpha Cloud and how it eases DevOps or learn how companies are incorporating DevOps into mobile app development.