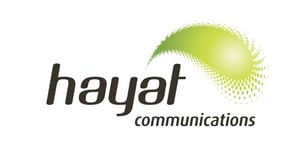 Hayat Communications selected the Alpha Anywhere Rapid Mobile App Development RMAD platform to build an enterprise mobile solution that helps their customers save money and improve productivity on multiple continents.
When it comes to mobile apps, most people likely don't think about where the greatest return on investment may come from enterprise apps that help field workers. But as the international company Hayat Communications found out, the right mobile solution pays big financial dividends.
Hayat Communications, a publicly listed company on the Kuwait Stock Exchange, provides the design, supply, build, and management of diverse spectrum services in fixed-line and wireless networks. They partner with well-known clients across the Middle East, with offices and major activities in Kuwait, UAE, KSA, Qatar, Bahrain, Oman, India and Iraq.
Much of the work done by Hayat Communications relies on its employees doing fieldwork in multiple countries. The company wanted to improve its efficiency and field productivity by building a software platform that combines a mobile app with a back-office application.
An ideal RMAD Platform
To do it, they chose the Alpha Anywhere RMAD platform to create an outstanding user experience. They compared RMAD development environments from a number of vendors and found that the Alpha Anywhere app development platform was the best suited for building apps the company needed.
"Alpha Anywhere ticked all the boxes," says Nikos Kazantzis, Group Head of Systems Integration for Hayat Communications. "It offered numerous out-of-the-box advantages, of which offline-capability on mobile devices was the most significant --- most other RMAD tools didn't have that capability built-in."
Development went quickly. Within the first month, Hayat had built its first enterprise application, including a cross-platform mobile app for a major fixed/wireless network operator. Within six months, the system was operational across more than 6,000 sites with 300 users. Six months after that, the system had doubled in size.
"We couldn't have built something this large and sophisticated this quickly with any other platform," Kazantzis says. "It was a tremendous time-saver, and let us build exactly the solution we had envisioned."
The finished system, named CMRI, (Computerized Maintenance, Rollout, and Inventory) supports the full range of Hayat operations. With it, Hayat has gained significant benefits, including increased productivity, improved dispatching and field management, increased accuracy, and better customer service.
Summing up the benefits of Alpha Anywhere, Kazantzis says, "Thanks to Alpha Anywhere, we built a comprehensive system spanning countries and departments that have saved us time and money, lets us operate more efficiently, and improves our relationship with our customers.
Read the complete Hayat Communications case study.