Gartner recommends RMAD software tools to help companies that need business apps but don't have the developers to build them. Read predictions about RMAD, how it can help development teams and how to select the best RMAD platform.
Demand for mobile apps will continue to skyrocket, and businesses' ability to meet that demand will fall behind -- far behind. Gartner warns that by the end of 2017, "market demand for mobile app development services will grow at least five times faster than internal IT organizations' capacity to deliver them." That spells trouble for application developers who are barely meeting custom mobile app demands in the enterprise today. But help is on the way: cue RMAD.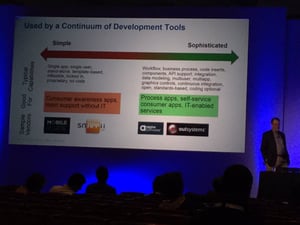 The big problem will be in the enterprise, Gartner says. By 2019, mobile phone sales will reach 2.1 billion units. That, in turn, "will fuel demand for apps in the enterprise that meet the high performance and usability of consumer apps." Employees and employers alike want custom business apps that are slick and easy to use. They want these apps to have outstanding workflow and productivity capabilities, with outstanding: security, data integration, offline access, and more.
Gartner Principal Research Analyst Adrian Leow said: "We're seeing demand for mobile apps outstrip available development capacity, making quick creation of apps even more challenging. Mobile strategists must use tools and techniques that match the increase in mobile app needs within their organizations."
Gartner recommends RMAD tools as a way to solve the problem.
What is RMAD?
Gartner analysts coined the term Rapid Mobile Application Development or RMAD. RMAD tools are essential no-code or low-code tools that allow IT or business users to do cross-platform mobile app development quickly and easily. Gartner analysts explain: "Using development tools that can produce apps more rapidly is crucial for enterprises to help bridge the gap between mobile app demand and supply."
How do RMAD Tools Work?
RMAD platforms use a low-code or no-code approach to app development. Low-code development platforms allow people with little programming experience to quickly build a mobile app for iOS and Android mobile devices. RMAD tools include backend integration and front-end app development for cross-platform development. So even business users and domain experts can build apps with outstanding user experiences.
RMAD: Gartner's Advice
Another Gartner study, "Market Guide for Rapid Mobile App Development Tools," reports:
"By 2018, more than half of all business to employee (B2E) mobile apps will be created by enterprise business analysts using codeless tools." The report concludes, "IT leaders can use these rapid development tools to address the global shortage of skilled mobile software engineers by increasing the pool of people who can deliver mobile apps."

How to Select an RMAD Platform
If the rapid app development platform you select does not have the right combination of capabilities, app hosting, services and training, you could find crafting apps with great user experiences and scaling them very painful and costly. Access this Buyer's Guide to RMAD Platforms for help.
Try RMAD Yourself
Try your hand at RMAD right now and start building enterprise apps with the Alpha Anywhere mobile app development platform. Go here for more details, including a free trial.
Read a summary of the Gartner Market Guide for RMAD Tools.