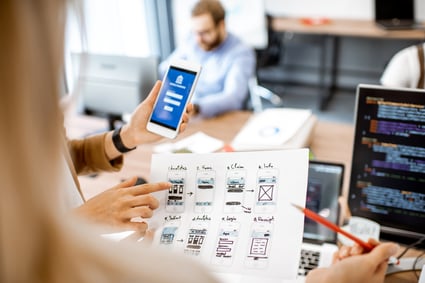 Businesses operate in three speeds: fast, faster, and fastest. But traditional development — and

mobile app development

in particular — often seems stuck in the slow lane. In order to speed that up, there's a growing trend towards low-code app development platforms.
If you're a mobile developer,

low-code development platforms

are likely in your future. In fact, if you want to be able to quickly create and deploy mobile apps, using a low-code development platform -- or rapid application development platform -- should be a goal for your every-near future.
In this blog, we'll answer the question: what is a low code platform and explain why these agile platforms are the right choice for your business' coding and development needs.
Low-code application platforms remove the complication from coding, allowing your employeess to reappropriate attention and reprioritize. By employing a low code platform, you not only increase speed of time-consuming workflow processes, but you also reduce spend on other expensive resources that impact your bottom line.
As detailed in a related Alpha blog post, "Low-code app development set to accelerate software delivery in enterprises," Rob Marvin, in an article for SD Times, does an excellent job of describing low-code development, detailing its benefits, and outlining the tenants of low-code development platforms. I highly recommend reading both the blog and the article. I was interviewed for the piece, and you'll find in both the blog post and the article a summary of what I believe are the benefits of low-code development platforms.
What is Low Code App Development?
The term low-code was first used by the research firm Forrester, and refers to app development platforms that allow developers to speed the development of business applications by using simple-to-use visual tools for routine coding, affording very little hand-coding and custom work. Low-code development platforms also allow for custom coding when required.
These platforms simplify processes that are historically shrouded in coding complexities, increasing accessibility, decreasing time spent, and enabling scalable growth.
Low Code Platform & The Need for Speed

There's a simple reason why low code development platforms are becoming popular with development teams and business users. They both have a need for speed. Demand for mobile applications has been skyrocketing, and IT and developers can't keep up with it. But management is no longer willing to put up with long development cycles and slow deployment. Low code development not only speeds up app building by cutting down on the code developers are required to write, but also functions as a kind of central command post for configuring, delivering, and maintaining apps.
The rise of low-code development environments are also giving rise to other digital transformation trends, such as citizen development and drag and drop interfaces and visual models for mobile app development.
Three "Neighborhoods" of Low Code Development Platforms
Forrester says there are three "neighborhoods" of low-code development platforms: a business process management (BPM) neighborhood, a Web content-management neighborhood, and a general-purpose app platform neighborhood. In particular, Forrester noted Alpha Anywhere as being notable in the app platform neighborhood. Alpha Anywhere's low-code development platform not only makes it easier to write apps and customize them when required but also controls both the front- and back-ends. That makes it easier to meet a business's needs for such capabilities as offline and authentication, and turn on a dime and change an app when required.
The creation of low code platforms has enabled a marked shift in the IT sphere, With nimble platforms, the app development process becomes less of a chore and more of an actionable task, allowing progress to be made and goals to be met.
Pillars of a Low-Code Development Platform
Low-code apps improve business practices, create better experiences for their customers, and increase the productivity of their partners and employees.
Sounds enticing, right?
Often developed by business analysts with little IT or programming support, these apps enhance worker productivity. With these apps, firms can increase profits, cut costs, and drive business value by mobilizing the moments of engagement – the points of contact where work gets done.
By eliminating middle steps that traditionally accompany app building, your organization can be much better positioned to achieve app success.
---
Download the Low-Code Development Whitepaper:
To help buyers understand the 4 critical factors for low-code app development, Alpha produced the white paper: "How a Low-Code Development Platform with Built-in Capabilities Can Speed Mobile App Development."
---
But there are 4 critical factors that these task-oriented business apps need, and they are often complex and costly to implement. Thy include offline capability, data integration, security and cross-platform UX — enabling developers or line of business professionals to bring apps to market faster at a significantly lower cost. To better understand these critical success factors, download the white paper "How a Low-Code Development Platform with Built-in Capabilities Can Speed Mobile App Development."
Benefits of Low-Code Development Platforms
What kinds of benefits can enterprises expect when they adopt low-code development platforms? Often developed by It developers tech-savvy business analysts with little IT or programming support, these apps enhance worker productivity. With these apps, firms increase profits, cut costs, and drive business value by producing more valuable business apps – or by mobilizing legacy business apps for employees in the field on mobile devices — faster.
Real-World Examples
Here are two real-world examples of organizations benefiting from low-code platform development: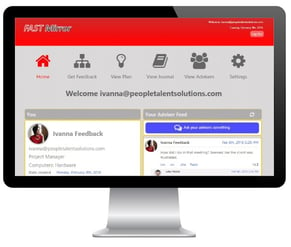 Fast Mirror Founder John Azzara wanted to build a self-service Software as a Service (Saas) solution for clients that would help human resources organizations address some of the challenges they are currently facing with performance feedback and professional development. He built the Fast Mirror subscription-based service by himself, using the Alpha Anywhere low-code development platform, and cut his development time in half with low-code:
"When I discovered Alpha Anywhere, I was very impressed with its low-code approach," said Azzara. "With it I can create applications I want in just a few clicks, and when I want something more advanced, I can write the code myself."
"With Alpha Anywhere I built a complete SaaS, cloud-based subscription service in half the time than if I had used a different solution. Alpha Anywhere's low-code capabilities helped me quickly design and launch it but allowed me to dive in as deeply as I wanted when I needed to do hand-coding myself," said Azzara.
For John, ease-of-use was paramount when it came to selecting a low-code platform for his business needs, which is why he chose Alpha.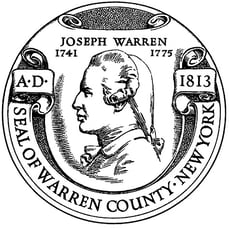 Warren County Senior Programmer/Analyst Jeremy Scrime needed to find new tools for building and maintaining approximately 80 web-based apps to perform a variety of tasks for more than 20 county departments including building permits and renewals, certificates of occupancy, real-estate tax collection and repossessing property. He was looking for a platform with a low-code approach to building applications, and that would work with web standards, including HTML5, CSS3, and JavaScript. Once they adopted a low-code development platform, Warren County reaped significant benefits, including reduced costs, increased productivity, and offering improved services to its citizens.
"Alpha Anywhere is great that way," said Scrime. "Its low-code approach was extremely important as well. We have a small IT staff here, and Alpha Anywhere gives us more bang for the buck because it lets a small staff build custom web apps quickly."
Jeremy sought a solution that could supplement the work of his small IT team. In App Alpha, he found the perfect IT partner.