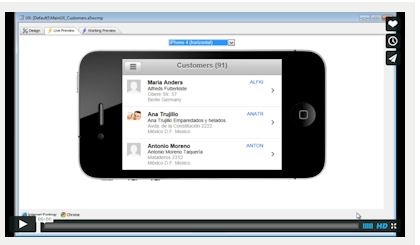 A video of the sample mobile application that ships with Alpha Anywhere can be viewed here.
Below is a Tutorial for Building the Sample Mobile Application that ships with Alpha Anywhere

In this tutorial we will show you, step-by-step, how to create the sample mobile application that ships with Alpha Anywhere.

Some Background Information

Before we start the tutorial, let's just set the stage. The application we are going to build in this tutorial is based on the sample Northwind database that ships with Alpha Anywhere. This is a Microsoft Access database (Northwind.mdb). We chose to build the sample application using Northwind because so many developers are already familiar with the structure of this database.

NOTE: We are using a modified version of the Northwind database. Some image fields have been added to the Customer table.

If you are not familiar with Northwind's structure, don't worry. It's a simple database with tables for Customers, Orders, Order Details, Products, etc.

While Northwind is an Access database, the application we build would work in exactly the same way if your database is a MySQL, MS SQL Server, Oracle, Postgres or other supported SQL database.

In fact, if you prefer to follow along in this tutorial using another SQL database (such as MySQL) simply export the data in the Northwind.mdb file (in the MDBFiles folder where Alpha Anywhere is installed - typically <program files>\a5v12) to your SQL database. For more information about creating a MS SQL version of the Northwind sample database, please see these links:link1, link2, link3



The application covers tasks that are common to many different types of business applications. In the application we will cover tasks such as:



Performing CRUD operations (create, update and delete actions) against tables in the database


Searching for records in the database


Showing related records (for example, showing all orders for a particular customer)


Using the camera to take a picture, upload the picture to the server and store it in a record.


Plotting a location on a map


Creating a chart to display data


Displaying reports.





You will notice that as you work through the initial lessons in the tutorial, we are focused on getting the basics of the application to work, rather than making it look like a mobile application. The initial lessons focus on creating a UX component to display data a SQL table, search for records, and then update records - the so called CRUD (create, update and delete) operations that are common to many business applications.

Once we have these basics all working, we start to 'mobilize' the application in lesson 8.



For the entire tutorial please go here.