Tutorial Offers Step-by-step instruction on turning a Microsoft Access database into a Web-based app.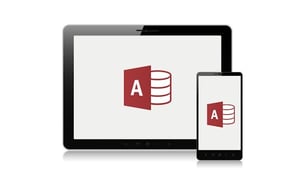 MS Access developers struggle with the question: "I need to take my Microsoft Access app and the web and mobile devices, what is the fastest and most affordable option?"
While leaving your desktop applications in place, Alpha Anywhere lets you build web-based applications that tie directly to your Microsoft Access data —applications built from a single codebase that provides an outstanding user experience on all browsers and mobile platforms.
Building Web Enabled Microsoft Access Applications with Alpha Anywhere
Alpha Anywhere can move or extend existing Microsoft Access desktop applications to the web and mobile devices. (Learn more about taking Microsoft Access mobile.).
Alpha Anywhere ties directly into your MS Access database apps. The software creates web-based applications that run smoothly on all web browsers and mobile platforms. You can be confident that iOS users, Android users, and Windows users will have outstanding user experiences with your Access database.
While you don't have to write code to use Alpha Anywhere, the software always allows you to add it. It's the solution Microsoft should have built to craft Access web applications.
Quick Start Video: How to Get Your Microsoft Access Data Onto the Web
This video shows you how to make Microsoft Access web apps. You'll learn how to use Alpha Anywhere to build a web interface to your MS Access database. Get up and running with your web-enabled Access application in just 5 minutes!
Try taking your Microsoft Access database applications to the web for free.
Alpha Anywhere is the product that Microsoft should have built for taking Access applications to the web and to mobile devices. The product even includes pre-built database templates. Sign up for a free trial of Alpha Anywhere and see how easily you can build Access database web apps.
Build More Microsoft Access Web-based Apps and Build Your Business
Developers who work with Access databases sometimes find it hard to track down new clients. Microsoft Office and Microsoft Access remain popular with many businesses. You'd be surprised how many companies still rely on Access for data storage. These companies new ways to access these legacy databases, and integrate with data sources like SQL servers and SharePoint servers. Read this related blog article: "Grow Your Microsoft Access Business."