Digital transformation had become a lot more than just a buzzword – it's become a business imperative. And if it's not done well and done quickly, it can seriously endanger the financial health of companies.
That's one of the takeaways from a survey of 650 IT decision makers from around the globe, MuleSoft's Connectivity Benchmark Report 2018. Three quarters of companies are currently undertaking digital transformation initiatives, the report found. And the consequences for failure are high: 80 percent of the companies said if they don't finish their initiatives they will lose revenue in the coming year.
---
80% of companies surveyed said if they don't finish their digital transformation initiatives they will lose revenue in the coming year.
---
As to why they've launched digital transformation projects, the top reason is to increase IT operational efficiency, cited by 83 percent of respondents. That was followed by improving the customer experience, cited by 71 percent, increasing business efficiency, cited by 70 percent, and introducing new product and services more quickly, cited by 58 percent of respondents
The most cited initiatives as part of digital transformation projects were modernizing legacy systems (36 percent of respondents), then integrating SaaS apps (32 percent) and investing in mobile apps (30 percent). What are the top barriers to digital transformation? According to the report the top three were time constraints (43%), business and IT misalignment (42%), and legacy infrastructure and systems constraints (38%).
The report also found that it's becoming harder than ever for companies to find the resources to put digital transformation into effect. Eighty percent of companies say their IT budget will increase by less than 10 percent, stay the same, or decrease in the coming year. Yet there's significant pressure for IT to do far more work with essentially the same resources. On average, respondents say they have 27 percent more projects underway compared to a year ago. And two-thirds say they couldn't deliver all the projects they were asked to last year.
Finally, companies are almost unanimous in pointing to a primary reason they can't complete projects – an inefficient development process. An astonishing 93 percent say their company's development process could be more efficient. That's particularly problematic, given that the report found that on average, companies use 1,259 separate applications.
---
An astonishing 93% of companies surveyed say their company's development process could be more efficient.
---
In all, the report paints a dire picture of the challenges IT faces in digital transformation. It concludes: "IT decision makers are telling us that their workloads are increasing, their budgets and resources are only going up slightly, and the pressure is on to complete the digital transformation initiatives that they are now tasked with or else the consequences could be severe."
How to Improve the Efficiency and Success of Your Digital Transformation Initiatives
At Alpha Software, we work everyday to digitally transform our customers' business processes. In addition to involving business users more heavily in the development process, one of the best ways to make development more efficient and deliver successful digital transformation projects is by applying the right application development product to the problem. Oil and gas companies, manufacturing companies, construction companies, and more are digitizing business process and thousands of field workers by engaging business users more actively in the development process with Alpha TransForm. Alpha TransForm allows developers to quickly prototype new mobile apps or digitized forms to immediately gain business user input and feedback - resulting in faster business requirements gathering and the first rev of an app. Developers can then deploy the TransForm app, or use the TransForm Programming Language or the even more complete Alpha Anywhere low-code app development environment to completely customize the app and integrate with existing corporate data sources, business workflows or web services. Business users themselves can use TransForm to produce an app or digitize a form and deploy it to the field. If further development is needed, developers can step in and further customize the base app as needed to incorporate more complex integration or security compliance requirements. Read how Alpha Software customers are succeeding at digital transformation or try a free 30-day trial of Alpha TransForm.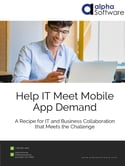 Get Your Free Comprehensive Guidebook on
Establishing Successful Digital TransFormation Practices at Your Organization.
Learn how successful business and IT collaboration and the right technology can meet the mobile app demand.