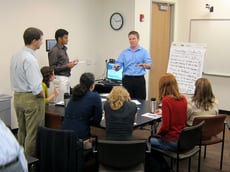 Great mobile apps requires a high performing mobile app team.


Building great mobile apps requires more than great developers, great tools and great insights. It also requires a high performing mobile app team. And as anyone who's ever worked on a development team knows, building and maintaining a great team can be the hardest part of the equation of how to build great mobile apps.

But creating a high performing mobile app team can be easier than you think — that is, if you get advice from the pros. And that's what a recent report from Gartner, "High-Performing App Dev Teams Have These Culture and Mindset Traits" does. It offers hands-on tips for making sure you build the best team possible. Following are the high points of its advice.

The report starts off by warning that "misaligned personalities and skill sets within teams derail efforts to modernize application development." One of its answer to that: "Application leaders must foster a company culture that will attract and retain the best combination of talent available."

Attracting "killer" talent

The key to a great team, Gartner says, is attracting what Gartner calls "killer" talent. And that has to be an ongoing effort, because talented developers can leave a company at any time. In Gartner's view, the best way to attract killer talent is to build the kind of organization to which people will flock. Gartner puts it this way: "An application organization's brand forms the basis of its recruiting strategy."

Building the best team possible, Gartner says, "requires a healthy and psychologically safe team environment within a 'growth mindset' organizational culture. 'Psychologically safe' means making coworkers and team members feel that they will not be punished or humiliated when taking interpersonal risks, such as asking for help, admitting mistakes and vulnerabilities, or expressing concerns."

What does a "growth mindset" mean? In Gartner's view, it means an environment in which people can learn and grow — and should be encouraged to do so. "Do not assume that a person's skills and abilities are fixed," is Gartner's advice. That's just the beginning, though. Gartner also says that leaders should actively its employees to take on challenges and stretch beyond what they already know and do.

To do all that, Gartner recommends that leaders take these steps:


"Work on improving your own growth mindset and behaviors to foster psychological safety within your team.
Socialize the benefits of these concepts among your peers, managers and direct reports, and encourage your HR and talent acquisition peers to do the same.
Review and modify performance management processes and KPIs for individuals and teams to ensure that a person's growth mindset and psychological safety contributions are rewarded.
Showcase examples of individuals and teams' improvements in this area; highlight what "good" looks like to develop new norms across the application team."
Building a great team is just the first step to building great apps. Companies need to give their teams the best tools as well. To read about how to do that with Alpha Anywhere's enterprise-grade security, data integration capabilities and built-in offline capability, click here.

For a free trial of Alpha Anywhere, click here.