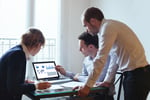 Saas (Software as a Service) startups need all the help they can get to make their SaaS solutions thrive. The inherent advantages of SaaS aren't enough to make sure they don't suffer the fates of so many other startups — going out of business.
But there's plenty they can do to make sure their SaaS offerings take off, whether they're a small business or a large one. So says the article, "7 Ways to Grow Your SaaS Startup Faster." Following is the best advice the article offers.
First, it says, you should start charging money for your cloud-based service early. Many SaaS businesses worry their product isn't ready for prime time and think they need to focus solely on expanding their customer base. The article, though, disagrees: "People truly value only what they pay for. And by paying, people demonstrate they recognize your value. By charging early, you will drive away freebie collectors but serious customers will stay with you."
You should also experiment with pricing. Try charging more, and also try charging less. Only that way will you know the real value of your SaaS application in the general market.
Make sure to listen to your paying customers more than to your free users. The article recommends, "Develop new features for those who take your product seriously and pay you—because they provide you with insights that truly matter."
The big money in SaaS applications is in getting big enterprise customers. So the article says you should "make big customers comfortable with your pricing." And that doesn't mean using lowball pricing. It means charging what enterprises are willing to pay.
It notes, "If you want to gain high-profile customers, your product shouldn't be embarrassingly cheap for them. Imagine an industry leader using a piece of software that costs five bucks! Moreover, a low price creates an impression that your software is not fully reliable and your business may fold up at any moment."
And so it concludes, "That's why it's advisable to add Enterprise pricing plans from the start. Even if your product is not yet ready for the Enterprise segment, you'll be able to collect the requirements and expectations of the big buyers."
Finally, the article warns that you can't assume that "word of mouth and organic growth are enough to grow your business. Marketing plans and strategic sales initiatives are what make businesses actually grow."
Choose the Right Platform for Your SaaS Startup
One thing the article didn't cover: You should choose the platform that can best build and maintain your SaaS applications. Alpha Anywhere is ideal for the task. It includes everything you need to build and deploy applications at an affordable price. You get an Alpha Anywhere development license, an Alpha Cloud subscription and a SQL database for testing and deploying your application. See examples of successful entrepreneurs who built their SaaS solutions using Alpha Anywhere.