Building an SaaS small business can be a tough slog. You've got to build and maintain the app and backend, spend time marketing and selling, and provide support for existing customers, all while keeping down costs and tending to the overall business. It's not for the faint-hearted. Many people have tried it and failed.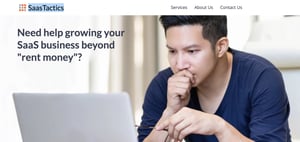 But it needn't be that way, says Tracie and Jay Oken. They built their successful SaaS business MySchoolAnywhere using Alpha — it was such a hit they were able to sell the business and reap sizable rewards. Now, the Okens are helping others start, launch and succeed with their own SaaS businesses through their consulting company SaasTactics. They advise and assist entrepreneurs with every step of a SaaS business, from conception through launch, growth and beyond.
One the toughest parts of launching a SaaS business, they say, is building and maintain the app, tying it to the backend, and keeping everything in working order. Only if you master that can you concentrate on the company's business aspects, because you're freed from technical problems.
As to what platform to use to streamline this process, they have a simple recommendation: Use Alpha Anywhere.
"Alpha Anywhere is the ideal platform for anyone building a SaaS business," says Tracie. "It's easy to get up to speed and quickly build a working app so you can start showing it to customers. The platform is particularly good for a non-technical business founder. It lets him or her build a SaaS app with little or no training. There are so many things you can do with it with just the click of a button."
Jay adds that people with some technical skills can also do hand-coding with it, so they can customize the app in any way they want.
"You can build your app using Alpha Anywhere's 's wizard-like features, but you can also do hand-coding as well," he says. "It gives you the best of both worlds."
They speak from personal experience. They used Alpha Anywhere to move their business MySchoolAnywhere from a desktop solution to an online and mobile solution, building both the online and mobile app with it. Tracie explains, "If we had to build the core from scratch, it would have taken three times as long as it did using Alpha Anywhere."
The result: They met an important launch deadline, gained a 60% increase in revenue in less than a year, and scaled MySchoolAnywhere with ease, giving them the opportunity to up-sell customers to their premium service. Read a case study about how they did it.
"We personally know the power of Alpha," Jay concludes. "And that's why we recommend it so frequently in our consulting business."
Read more about SaaSTactics full-service SaaS startup consulting entrepreneurs. For entrepreneurs who want to start a little slower, the company also offers a Finance and Operations Strategy Review for $359