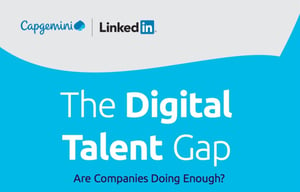 t's long been known that there's a digital talent gap – companies simply can't find enough skilled tech workers, notably mobile app developers, among others. But a joint survey this year by Capgemini and LinkedIn of more than 1,200 employees and business leaders around the world makes clear just how much damage that's causing enterprises – it's putting their digital transformation projects at risk.
The survey, "The Digital Talent Gap: Are Companies Doing Enough?," warns that of the businesses it contacted, "Over half (54%) of the organizations agreed that the digital talent gap is hampering their digital transformation programs and that their organization has lost competitive advantage because of a shortage of digital talent."
The report found that the talent gap is particularly wide when it comes to mobile app design and development and web development. Sixty-four percent of companies report that demand for web developers is high, but only 39% say they have employees with the right skill level to meet it. And 62 percent of companies say their demand for mobile app design and development is high, but only 38 percent say they have employees with the right skill level to meet it.
Those numbers are borne out by the Indeed job search site. Its blog "What Are the Hardest Jobs to Fill in Tech?" noted that the tech jobs with the highest talent deficit are software architect at number one, DevOps at number two, and mobile developer at number three.
And things are only getting worse. TechRepublic notes "Every company has become a tech company to some degree, with digital transformation projects underway in most industries to stave off disruption. This means that demand for developer talent has skyrocketed in recent years, as companies seek people who can bring digital projects and applications to life." The article adds that the U.S. Bureau of Labor and Statistics predicts that developer jobs will grow 24 percent between 2016 and 2026, far faster than the rate of other professions.
What's the Best Platform For Bridging the Talent Gap – and Spur Digital Innovation?
Many companies have found that the best way to bridge the talent gap isn't to hire more developers, but instead engage more employees to write mobile apps -- in effect, powering field-driven digital innovation. Using Alpha Transform, line-of-business experts and domain experts with no technical training can write process-driven business apps in minutes. In addition, this technology can speed up enterprise digital transformation by bridging the IT/line of business divide. It enables savvy business users and experienced developers to work together to quickly and effectively digitize business processes and deliver tangible business impact. Line-of-business experts build mobile apps using their insight regarding workflow needs and efficiencies, while simultaneously enabling IT to control data integration with systems of record, and data security compliance. This process puts the workers who know the business challenges best - those on the front lines of business - in direct control of digital transformation and business innovation, with IT at the ready to power the movement.
f you would like to explore how Alpha Software could help your business leaders successfully drive digital innovation, speak to our Director of Digital Transformation Technologies:
mike.gongwer@alphasoftware.com
.
Further reading: